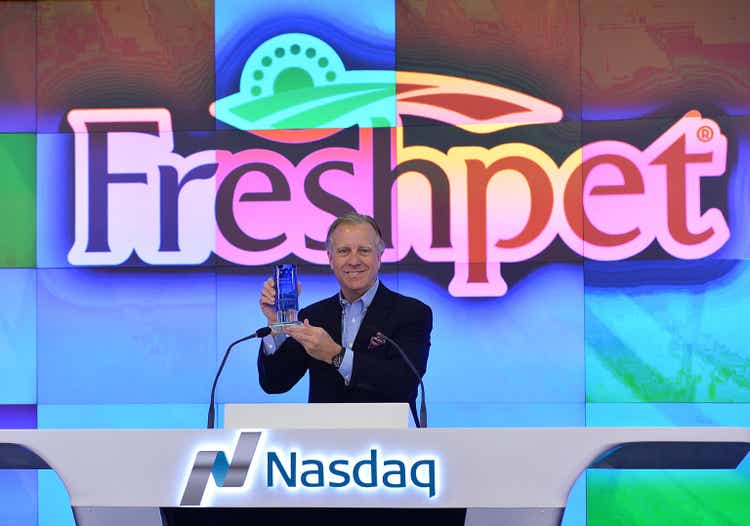 Update 9pm: Adds Fresh Pet comment.
Activist investor Jana Partners is set to start a proxy fight with Freshpet (NASDAQ:FRPT) , nominating four directors for the pet-food company's board.
Jana has a 9.3% stake in Freshpet (FRPT) and is now the company's largest holder, according to a letter Jana wrote to the board on Wednesday. The director nominees include Diane Dietz, Timothy McLevish, Scott Ostfeld and Kurt Schmidt.
The latest update comes after the WSJ reported in September that Jana Partners had a large stake in Freshpet (FRPT) and was seeking to have the company acquired by one of its largest competitors while also considering operational improvements.
"We believe Freshpet's pattern of missteps stems directly from a Board that has disregarded its most basic duties to shareholder," according to the Jana letter. "While recent management changes are a step in the right direction, we have observed a Board that has, over multiple years, failed to properly supervise management as performance worsened, liquidity deteriorated and shareholder value plummeted. Worse still, these problems unfolded while more than half of Freshpet's independent directors pursued outside interests with corporate resources and key members of management."
Jana in March said Jana said Freshpet (FRPT) required either "significant" board change or in the absence of boardroom change, a sale of the company should occur.
Freshpet (FRPT) said that is has has engaged "extensively" with Jana over the past nine months and the board has attempted to reach a "constructive resolution" with the investor, though Jana has rejected the company's offers.
"Unfortunately, Jana has made clear to us that their sole purpose is to force a sale of the company without consideration of all potential paths to value creation," Freshpet (FRPT) said in a statement.
Last Wednesday, Freshpet (FRPT) announced several actions tied to the operational improvement plan launched in August of last year, and it named Walter George the new independent chair of the board.
The news was earlier reported by the WSJ. Freshpet (FRPT) shares fell 3% in trading on Wednesday.
A Dealreporter item earlier this month indicated that Freshpet (FRPT) has no plans to seek a sale of the pet food company.
More on Freshpet: