Stocks finished flat, with the up just 12 bps, while the advanced ten bps. The day was not strong for the , down 1.5%; the S&P 500 equal weight, dropping 33 bps, and the equal weight, down almost 50 bps. today is November Opex.
The reason I bring this up is because yesterday was the day we saw the unwind of that Nasdaq 14,600 11/17/23 call option, which traded nearly 7,000 contracts on the day. This was presumably bought to cover, to unwind that covered call position in the Global X Nasdaq 100 Covered Call ETF (Nasdaq:), which had a delta exposure of about $8 billion. Once the volume picked up in the option around 2 PM ET, the Nasdaq 100 started to trade higher.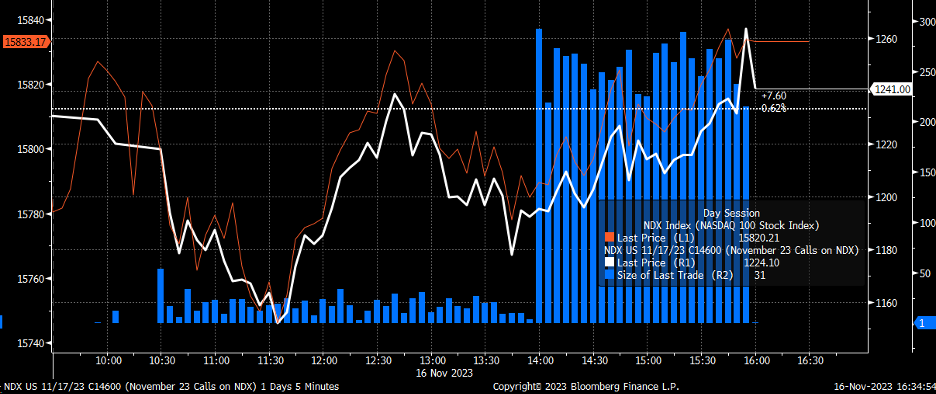 Today, we should see a new covered call trade presumable for the December expiration date, which should create a similar amount for sale, which obviously could hurt the market in the afternoon, probably like what we saw on October 20, when the NDX reversed and fell by 1% starting after 1 PM. But we can see what happens.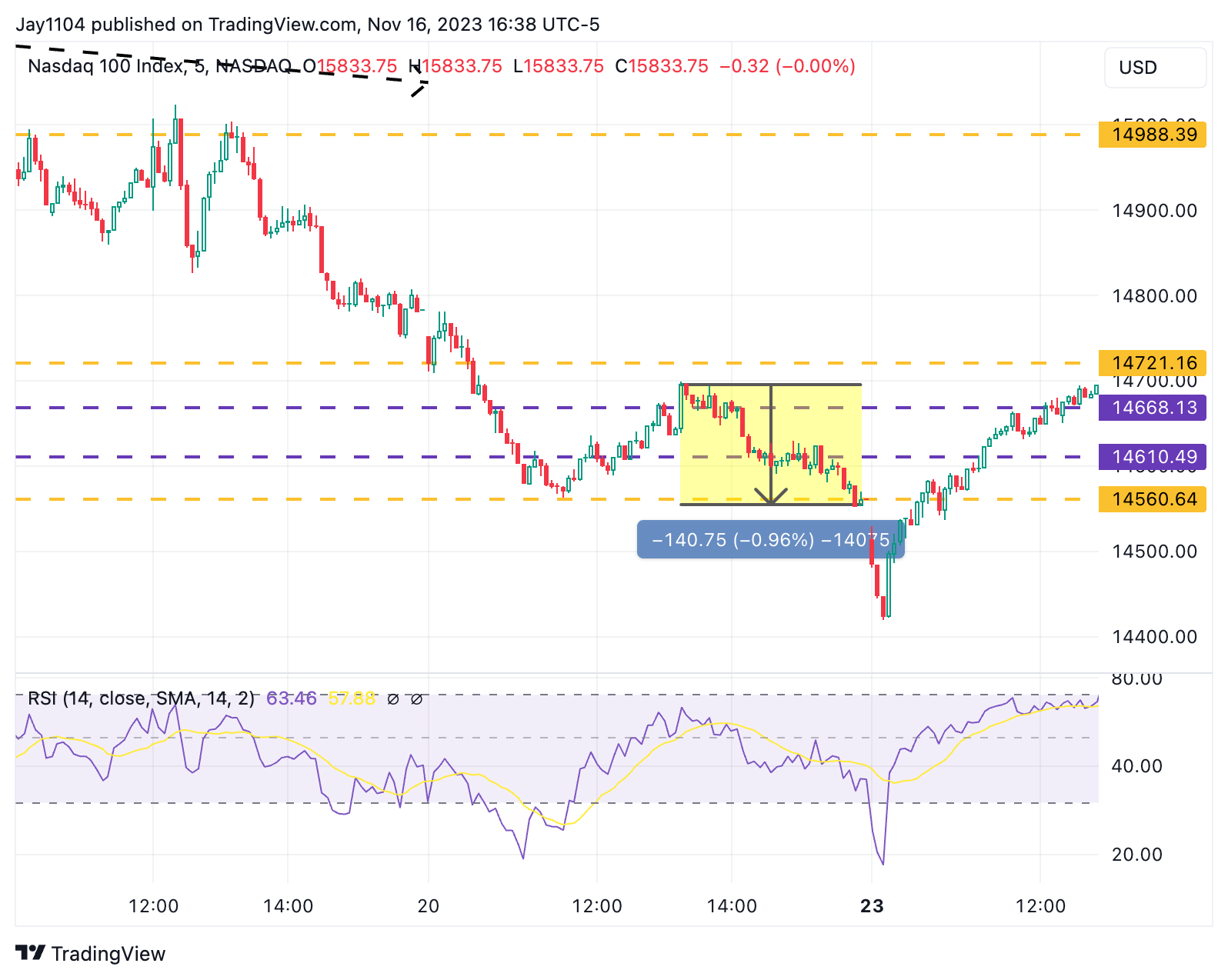 Anyway, the reason I pointed to the equal-weight indexes is that I am guessing that because the Nasdaq options contract was being unwound, the buying pressure had to reflect somewhere, and given the top-heavy nature of the Nasdaq, it makes sense to see a stock like Nvidia (Nasdaq:) not have as big of an impact in the equal weight index. It tells us that this was a pretty weak day despite the gains.
S&P 500 Still Following Elliot Wave Pattern
The nice thing is that because yesterday's high didn't eclipse yesterday's high, my wave count for the S&P 500 didn't change. A down day today would be nice because my wave count would still work, and maybe I could have a somewhat less busy weekend.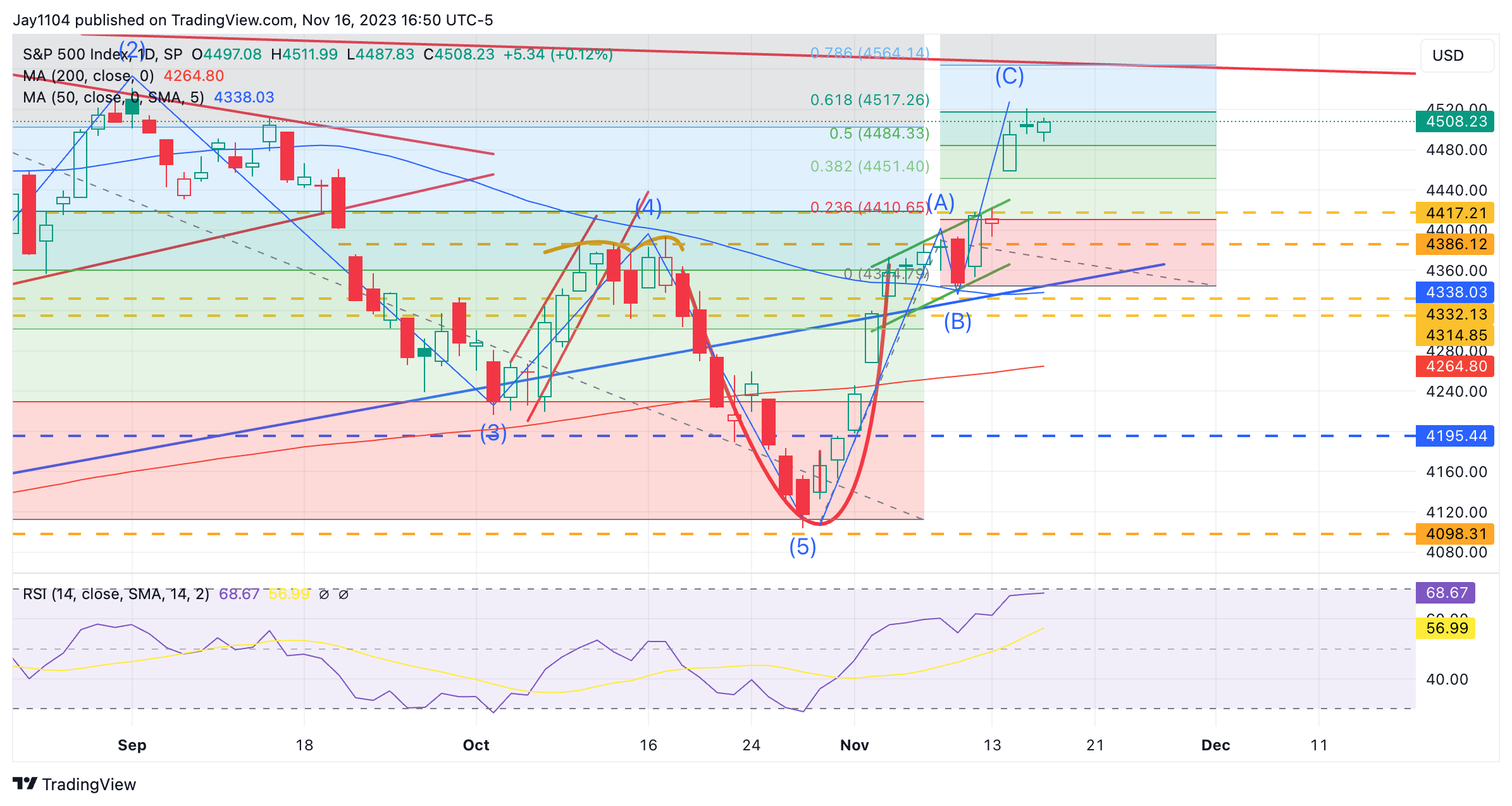 The Russell 2000 Faces 200 DMA
The other day, there was a lot of fuss about the Russell 2000 "surging" and "soaring" by 5.5%. Let's put it this way: the Russell 2000 is down so much that a 5.5% rally hardly even registered on the chart. If it wasn't written above that the Russell 2000 rose by 5.5% on November 14, would you have guessed that was how big the move was?
Anyway, more important is that the Russell 2000 surged right to the 200-day moving and crapped out. Maybe this is a typical 38.2% retracement, and the Russell soars today or next week. But I have to say that is one ugly chart, with that nasty reversal candle on Wednesday.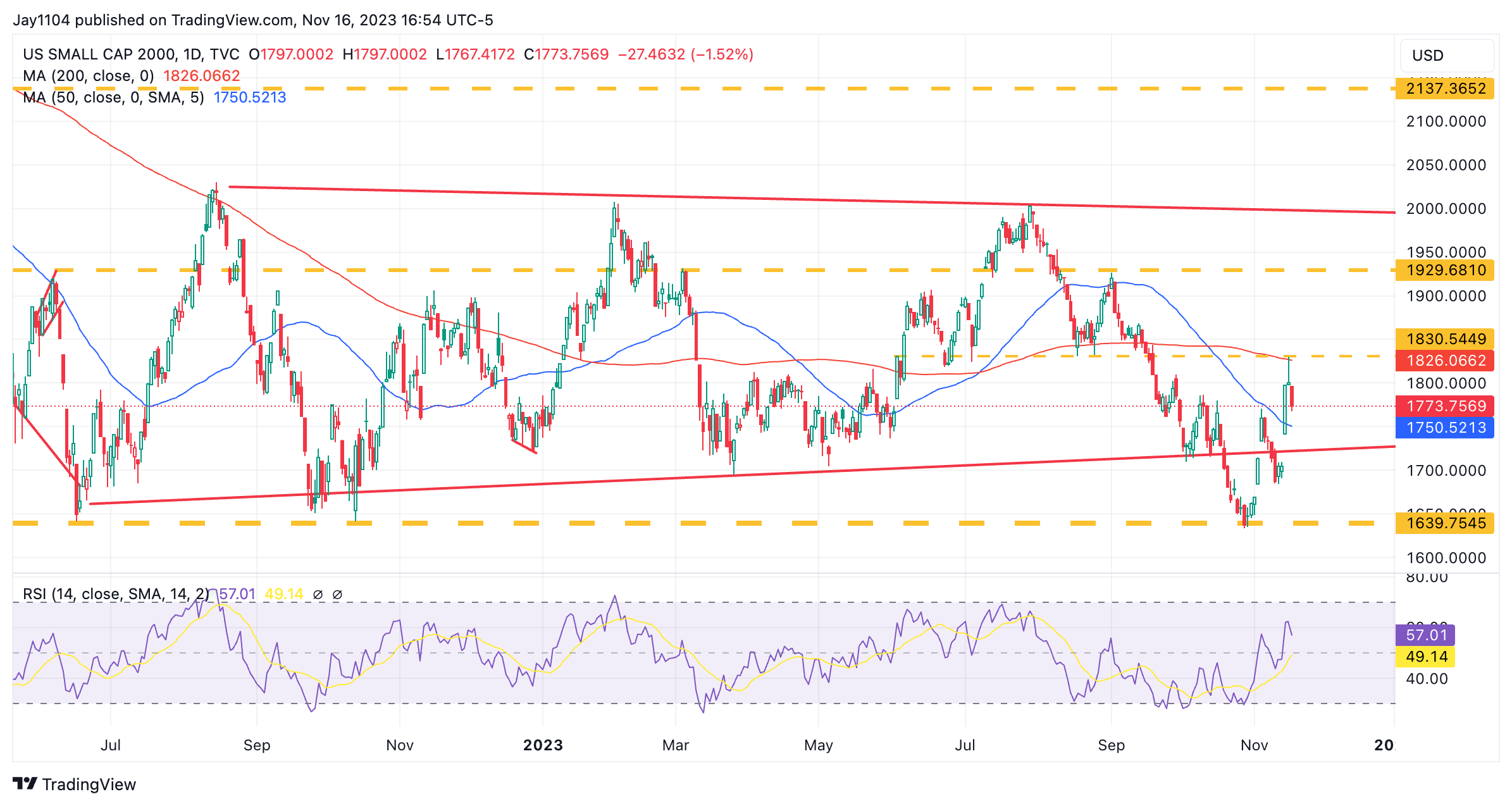 Oil: Things Aren't Looking Good
continues to deteriorate, and when it falls like this, it doesn't send a good message about global growth. What makes it worse is that oil is falling even with all the cuts to production. It almost looks like oil could undercut that $65 low.
It is oversold here so it could be due to bounce. It depends on how you want to label this whole thing. However, we may be in wave C, which could take oil down to $47. But we must see what happens over the next week before jumping to conclusions.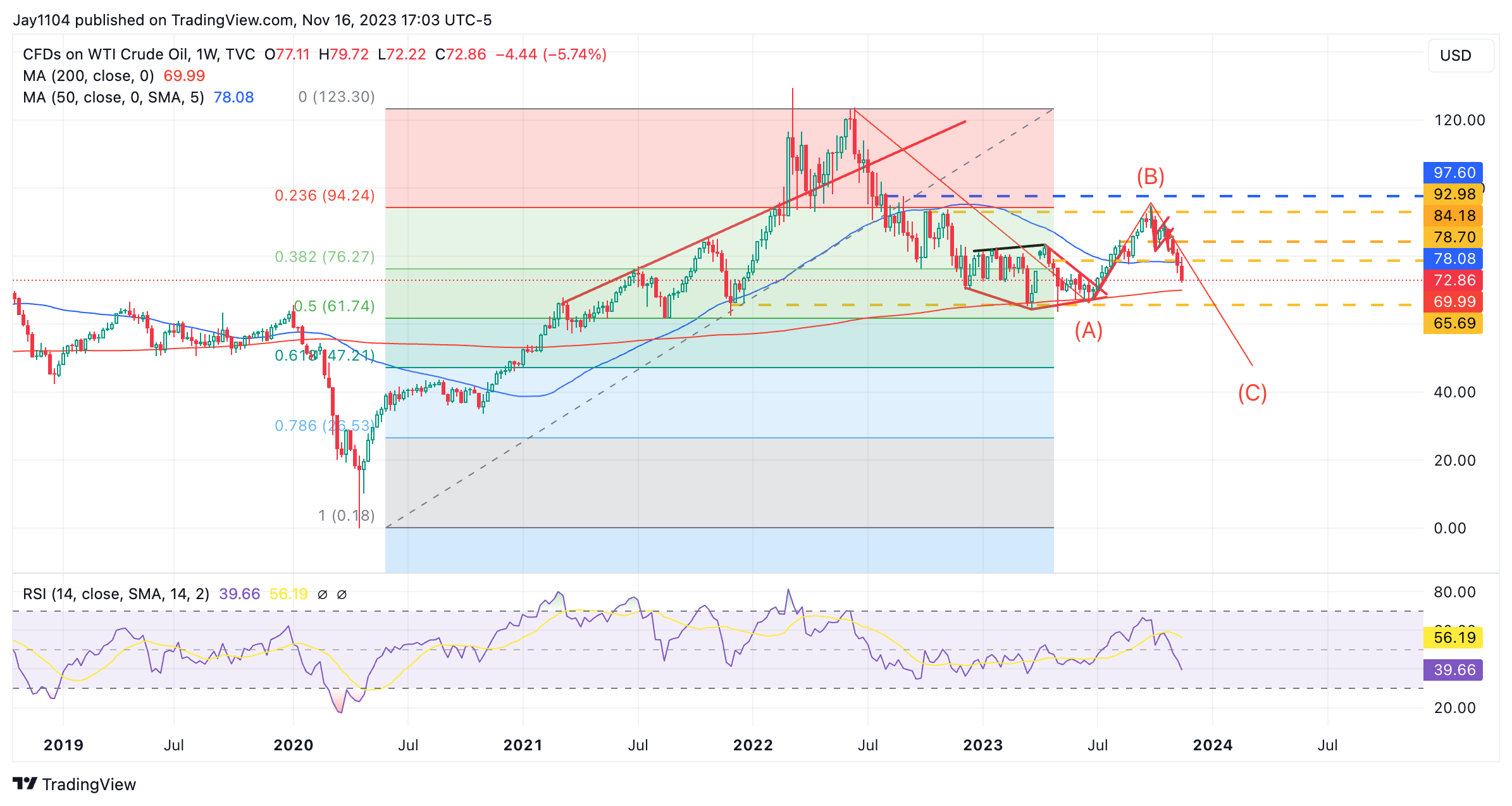 Freeport Looks Weak
Finally, if global growth is slowing as oil suggested, that probably isn't good for or the miners like Freeport (NYSE:). It could be why the stock broke an uptrend in what appears to be part of a diamond reversal pattern. It will be essential to watch how the stock behaves in the $33 to $35 region; a break of $33 is probably not good.