On Friday, the share price of Prestige Estates Projects Ltd (NS:) surged 4.77% to INR 419.35 and the stock soared to the highest level since 21 February 2023. This is not just a good outperformance compared to the 100 index which jumped 0.69% but the stock was in a higher momentum w.r.t the sector performance.
On the last day of the week, the index was the top-gaining sectoral index as it rallied over 3% to 399. Its highest-weighted stock – DLF (NS:) Limited contributed the most with its 4.22% gain but Prestige Estates Projects didn't lag behind. The latter holds a 6.3% weightage in the index and contributed 0.3% to the overall gains.
Prestige Estates Projects is a small-cap real estate developer with a market capitalization of INR 16,044 crores and trades at a TTM P/E ratio of only 11.36, compared to the sector's average of 44.57, making it quite a lucrative bet in this space. In fact, FIIs have a high stake of 22.21% in the company while the stake of mutual funds is 7.16%, which was a mere 2.6% in September 2021.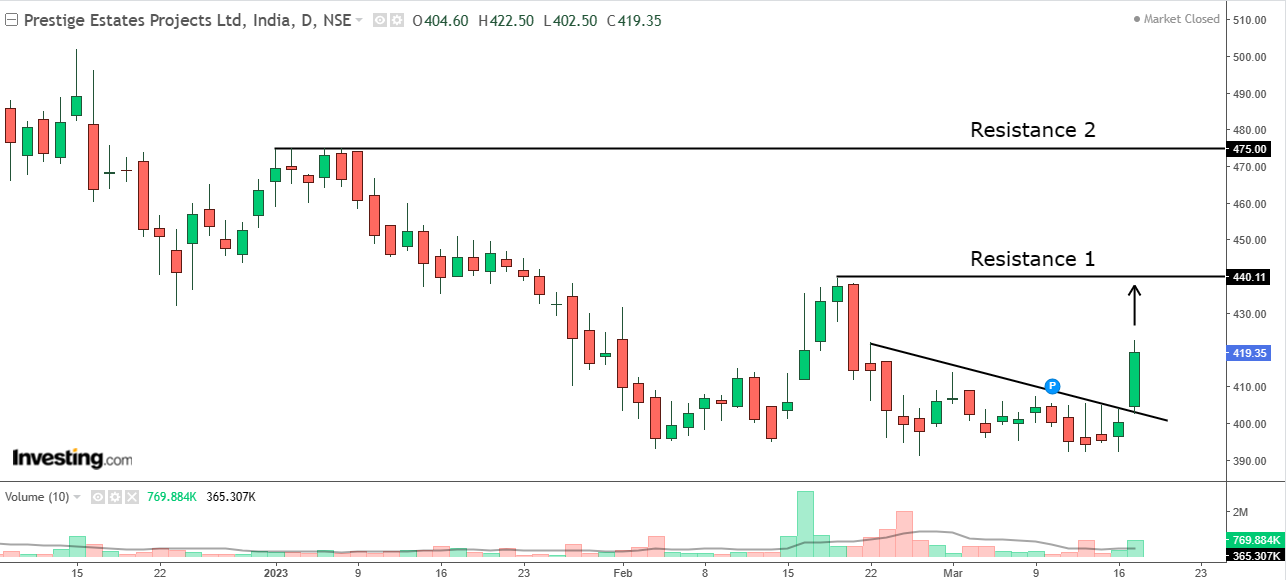 Image Description: Daily chart of Prestige Estates Projects with volume bars at the bottom
Image source: Investing.com
The share price of Prestige Estates Projects made an attempt to start an uptrend after a correction from the December 2022 high of INR 511.4. An attempt to pare some losses was made in mid-February 2023 when the stock hit INR 439.4 amid which the rally fizzled out. After almost one month, the stock is again rallying and it seems like this time it might break the resistance of INR 440.
The primary reason is sectoral strength. Generally, stocks from a strong sector tend to do well on the back of good sentiments even if the particular stock under consideration is not so good. To give an analogy, all boats rise during a tide. Although the primary trigger was the DLF as its mind-boggling sales figure of INR 8,000 crores within 3 days made investors cock-a-hoop, other real estate stocks also witnessed investors' interest.
The volume on Friday was also decently high, at 769.8K shares which is almost double the 10-day average volume of 338.8K shares. Any rally backed by increased volume is a good sign. Combining both the above-mentioned factors, the stock might first attempt to reach its resistance of INR 440 which would be the first level to watch out for. After this hurdle, the level of INR 475 should be looked for.
Read More: Retirement Portfolio: 2 REITs for 'Lifelong Dividends'!