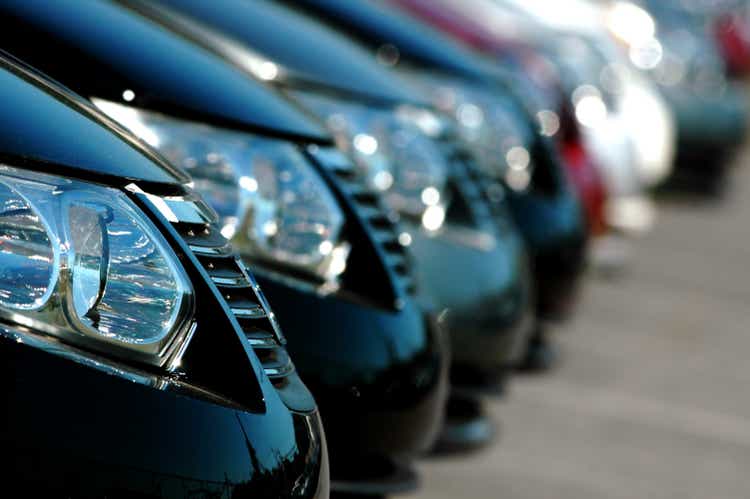 The broad automobile sector continues to face a tough road ahead as the inflation headwinds cut deeply into what was forecast to be a year of industry recovery and a boom for electric vehicle startups. The major focus in the months ahead will be how supply and demand variables play out and impact sale volume tallies and automotive margins.
The latest read on pricing is that wholesale used-vehicle prices increased another 1.8% during the first 15 days of March from the month prior, according to the Manheim Used Vehicle Value Index. The price increase for the first two weeks of March of the month was partially expected due to the timing of tax refunds. However, the pace for the two weeks was higher than the 1.2% increase on average for the pre-pandemic period of 2014 to 2019. Sports cars were the only segment to see lower prices, with a 2.4% decline from February. Also of note, the average daily sales conversion rate of 68.3% in the first half of March increased relative to February's daily average of 63.8% and was above the March 2019 daily average of 65.3%.
On a year-over-year comparison, seven of eight major market segments saw seasonally adjusted prices that were again lower for the first half of March. Per Manheim data, pickup trucks had a 0.9% Y/Y increase, while only midsize and compact cars lost less compared to the overall industry in terms of seasonally adjusted year-over-year changes. The remaining auto segments lost between 2.4% and 7.7%, with luxury cars at the bottom of the list.
The check on inventory levels showed retail and wholesale days' supply below normal in mid-March. Days' supply was down 11 days year over year and down four days compared with the same week in 2019. As of March 15, wholesale supply was at 22 days, down one day from the end of February, down four days year over year, and four days lower than in 2019.
The last check by Manheim on new-vehicle sales data showed a jump of 9.1% month-over-month and 8.7% year-over-year in February even with some price cuts in the electric vehicle sector. Analysts have noted that slow production in some automobile segments due to semiconductor shortages is still impacting prices. Looking ahead, new auto price inflation is seen moderating as the year-over-year comparisons ease and production snarls improve. In addition, higher interest rates will be a major factor for both new and used auto buyers looking for financing in a development that could impact the demand side of the equation for the industry. Auto insurance has also broken higher, which could impact demand as well.
Used car prices for March will factor into the next consumer price index report to be released on April 12.
What to watch: For investors, the combination of supply, demand, and pricing wildcards add up to more uncertainty for bottom lines. Auto dealers appear to be prepping for a down year. "We've polled owners of hundreds of dealerships over the past few weeks, and most expect profits will decline 10%-15% in 2023," noted industry watcher Haig Partners. As for manufacturers, Morgan Stanley believes a negative revision cycle may be important to trigger more austerity within OEMS and suppliers including pulling back/downsizing electric vehicle capex plans. Perhaps a surprise in the current climate, but Ferrari (NYSE:RACE) is the firm's new "Top Pick" in the auto sector with the Italian luxury sports car maker said to feature the longest order backlog, greatest earnings visibility and highest pricing power of any auto name. Meanwhile, Tesla (TSLA) is still the market cap beast in the auto sector, which has the bull vs bear debate raging on as strong as ever.
Related tickers: Tesla (TSLA), Ford (F), General Motors (GM), Stellantis (STLA), Honda (HMC), Toyota (TM), Nissan (OTCPK:NSANY), AutoNation (AN), Carvana (CVNA), CarMax (KMX), Lithia Motors (LAD), Group 1 Automotive (GPI), Penske Automotive Group (PAG), Rush Enterprises (RUSHA), ACV Auctions (ACVA), Driven Brands (DRVN), America's Car-Mart (CRMT), Vroom (VRM), Sonic Automotive (SAH), Asbury Automotive Group (ABG), Lucid Group (LCID), Rivian Automotive (RIVN), Nio (NIO), Li Auto (LI),and Cars.com (CARS).
See Seeking Alpha Quant Ratings across the automobile sector including the lone "Buy" rating.