As the earnings season is going on, Bandhan Bank (NS:) also came out with its Q3 FY23 results, depicting a mixed set of numbers. Total advances grew 11.1% YoY to INR 97,787.1 crores while total deposits increased 21% to INR 1,02,283.2 crores in the same period. On the flip side, margins contracted by 50 bps to 6.5%, while net income plunged 66.2% YoY to INR 290.6 crores in Q3 FY23.
The earnings report seemed to have triggered a net positive reaction among market participants. Prior to the result, the stock was already facing selling pressure, which could be the reason for a rally just after the results. The share price of Bandhan Bank rallied 4.55% to INR 247.95 (spot) to close Monday's session.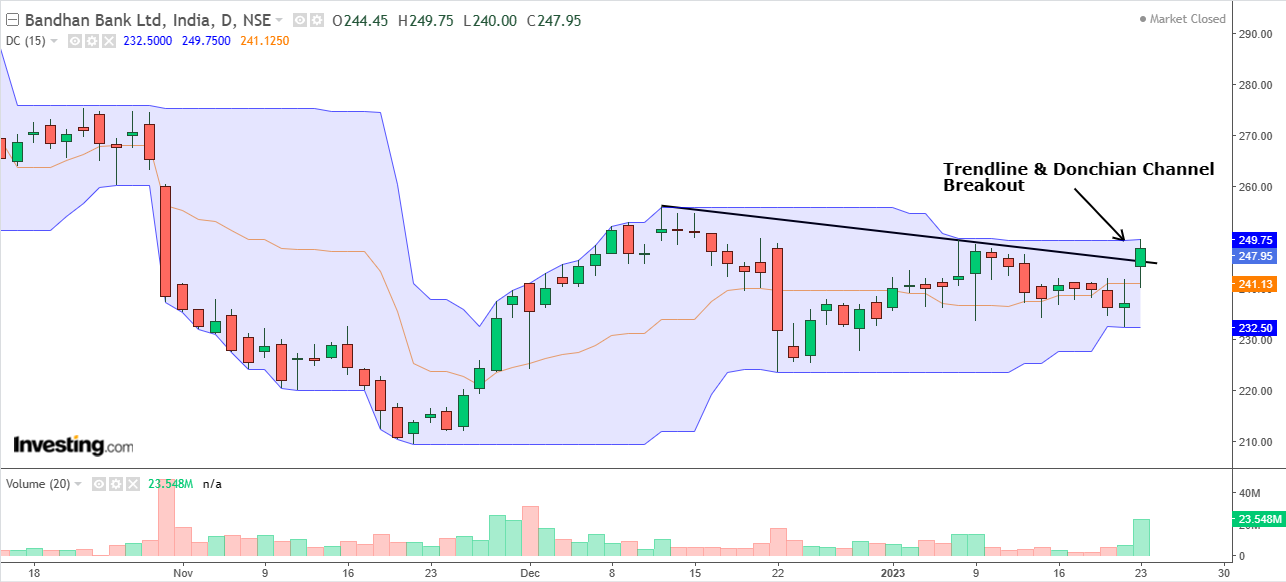 Image Description: Daily chart of Bandhan Bank with volume bars at the bottom
Image Source: Investing.com
The stock broke above the falling trendline resistance as the intensity with which buyers were trying to accumulate Bandhan Bank shares was decently high. Buyers ended up bidding the price to the highest level of the month so far, which resulted in a good breakout. Looking at the volume figure, the NSE recorded a total trade of 23.4 million shares on the first day of this week, which is the highest volume since 1 December 2022.
Another indication of the beginning of an uptrend came in from the 15-period Donchian Channel. It is a trend-following band-like indicator that depicts the highest high and lowest low for the past (n) periods and creates a band from it. Whenever the stock breaks the upper band, the breakout is expected to take the stock higher, while the opposite is true for a breakdown below the lower band.
Since 13 December 2022, the stock hasn't been able to break its 15-day rolling highest high (as can be seen from the chart above). But today, it surpassed the previous high of INR 249.45 and also delivered the highest closing in over a month. This signals a possibility of a trending move on the upside and as the trendline resistance has also been broken with a good volume, the share price of Bandhan Bank is probably headed upside.
This counter has decent volatility, and therefore a move to INR 260 could be expected quite soon. Going with the same band for the support level, INR 232.5 could make an ideal exit level for long positions, as of now.