There's no doubt that currently, we are witnessing quite a sharp rally in the PSU banks which is showing no signs of slowing down. While many banks have almost doubled from their June 2022 lows, one bank that hasn't doubled yet from the year's low but is strongly on its way is Punjab National Bank (NS:). 
The bank had remained in the limelight in the last few years due to various scams and two of the most popular ones being the Vijaya Mallya fraud and later on Nirav Modi scam. So, not a surprise that the bank fell from a high of INR 231.6 in 2017 to a low of INR 26.3 in 2022. However, those who are still holding their PNB shares from higher levels have started to see their rates coming back.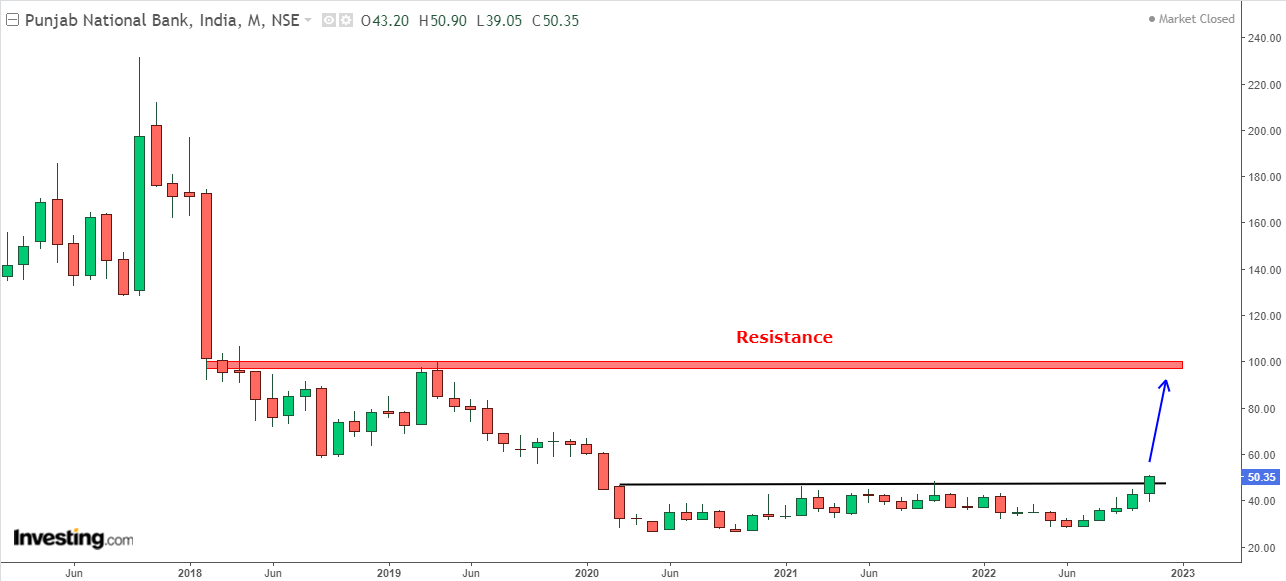 Image Description: Monthly chart of PNB
Image Source: Investing.com
The relentless rally in the PNB shares has taken the stock to over INR 50 which is the highest level since February 2020. In fact, after the crash, it was the first time that PNB shares closed in the green on a monthly chart for 4 consecutive months. That simply means the stock has only been rising month on month and currently in the 5th month, the gains are still positive so far. 
Although I generally don't analyze monthly charts as this time frame is too large to trade and not suited for the average trader, looking from the point of view of investors, the chart looks quite amazing.
After the Covid-19 panic, the stock markets moved to a new high but PNB shares didn't go anywhere. For more than two months, the stock kept on trading within a broad range (as it's a monthly movement) of ~INR 26 to ~INR 47. This is quite a long consolidation period. Many investors might have easily lost their patience to hold on to this counter irrespective of their buying prices.
However, those who are still sticking on to PNB shares even from triple-digit levels, they might get a chance to see PNB shares in triple digits again. Looking at the broader time frame, there's virtually no resistance present now, till the level of INR 100, where there's a good supply zone. But till there, the stock has a full runway to surprise investors. It is also to be noted that as the analysis is done on a monthly chart, these levels are not going to come in the next couple of months. 
The bank would take its own sweet time to scale to new highs and it could easily take over a year. But the whole premise is that the breakout above INR 48 and that too on a monthly chart should not make you go bearish on the stock anymore. The daily and weekly corrections would come but investors should not be bothered by that. A monthly closing above INR 48 would be the final confirmation.