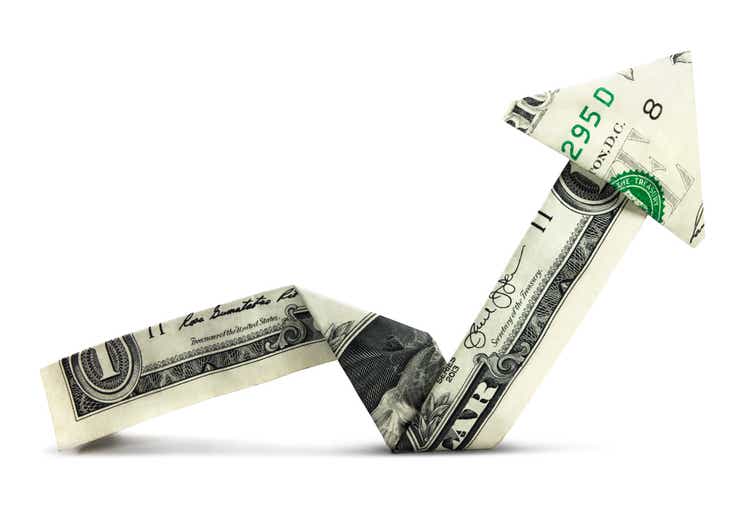 The Dollar Index (DXY) continued to move higher on Thursday afternoon, topping its highest levels in over two months as debates continue in Washington about the U.S. debt ceiling.
The Dollar Index, which tracks a basket of currencies, has popped above the 104 level and now trades at 104.30, an advance of 0.3% on Thursday. The move upward has sent the DXY to a level that it has not touched since March 17th.
The DXY has now advanced by 2.6% since the beginning of May and also crossed above its 100-day moving average.
As part of this move, the U.S. dollar has gained ground against a series of other foreign currencies during May. Some currencies that have lost ground against the greenback include the Euro (EUR:USD), British Pound (GBP:USD), Japanese Yen (USD:JPY), Australian Dollar (AUD:USD), and the Canadian Dollar (USD:CAD).
Additionally, the dollar's advance also propped up exchange traded funds focused on the U.S. currency, such as the Invesco DB USD Bullish ETF (NYSEARCA:UUP), and the WisdomTree Bloomberg U.S. Dollar Bullish Fund (NYSEARCA:USDU). Since May 1, UUP is +3% and USDU is +2.1%.
Looking at the debt-ceiling talks, Barclays said earlier this week that a "no deal" scenario is unlikely. But the firm did state: "In the event that Congress is unable to reach a timely resolution, the market selloff in reaction to the 2011 US debt downgrade would likely pale in comparison, given the precarious state of the economy and very low equity volatility at present."
See below a year-to-date chart of the DXY and its recent May rally.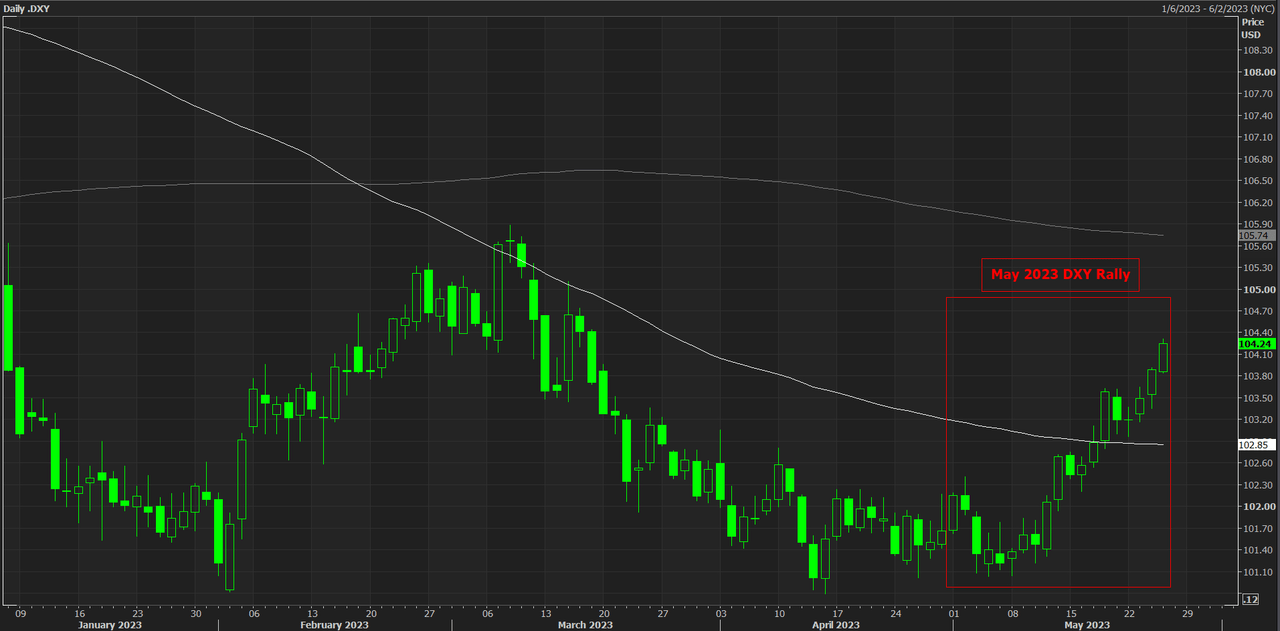 More on the Debt Ceiling:
Biden administration turns to 2011-era contingency plan for after debt limit deadline
Rep. Hern sees a debt ceiling pact 'likely' on Friday afternoon; differences narrow (updated)