Whenever a stock is trending down, there has to be some kind of a reversal signal before you attempt to go long and a double bottom chart pattern is one such indicator. The pattern simply resembles a 'W' and often forms near the bottom of the downtrend.
Today, the share price of CE Info Systems Ltd (NS:), the owner of MapMyIndia brand has probably started the formation of a double bottom pattern on the weekly chart. Talking about the company, it is a data and technology products and platforms firm that provides its own digital map and other location-based services, having a market capitalization of INR 6,203 crores.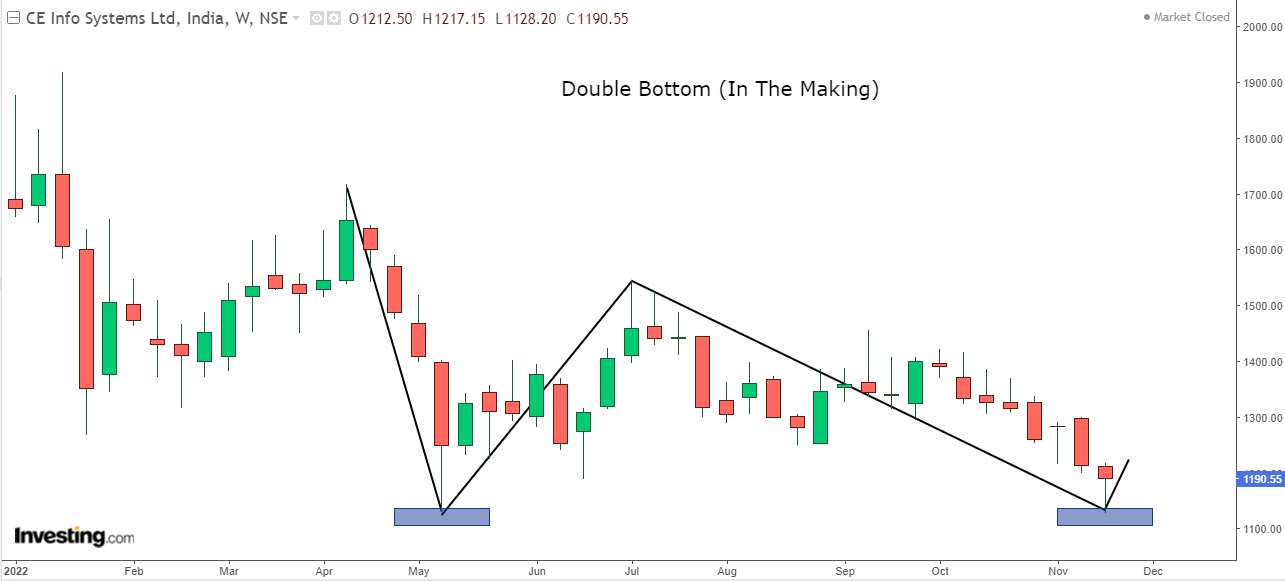 Image Description: Daily chart of CE Info Systems
Image Source: Investing.com
On the weekly chart, the stock marked a bottom of around INR 1,128 in May 2022, after a consistent fall since mid-April 2022. The demand from these levels helped the stock to stage a successful recovery and pare most of the losses. This level marked the first bottom of the pattern. Then a gradual rise followed, which took the stock to a high of around INR 1,542 by July 2022 where it eventually peaked and started the next leg of a fall.
Interestingly, this time also, the plunged halted at around the level of INR 1,128 and it is where the demand again started to outstrip the supply. A stock, which is priced in 4 digits has 2 bottoms almost 6 months apart with a difference in price as minute as a few decimals. This makes the stock one of the perfect double bottom chart patterns, as mostly, it's rare to see both the bottoms with such precise lows.
Now the stock has started to recover from this second bottom as well, gaining 3.49% to INR 1,189.95. The first green candle after 9 shows that the buyers are getting active at these levels. However, one thing to note here is that the pattern is not yet complete. The stock is in the last phase of the completion which would be marked once it reaches the previous peak of around INR 1,542 and rising above this resistance would deliver the actual breakout.
But as this is a weekly chart, a rally from the CMP of 1,189 to the breakout level of INR 1,542 would mean letting go of a move of around 29%. Those who are comfortable with this can look at the stock post the breakout level, but those who want to take a premature entry for a potentially higher reward at the cost of higher risk can also look at the current levels for their positions.