The share price of Bharat Rasayan Ltd (NS:) has been a laggard for the last many months. The stock depicted a decent underperformance as opposed to the broader markets, falling 19.5% in the last one year, compared to the index return of a negative 14.4% in the same period. However, the current oversold price of the stock is indicating a probable reversal which could surprise its permabears.
The company is in the business of manufacturing technical-grade pesticides and intermediates, having a market capitalization of INR 3,887 crores. The stock has been falling in a one-way fashion since September last year, without giving any relief rally to investors to make an exit. Every minor jump during this time had been sold off by investors as they hurried to cut down their exposure to Bharat Rasayan shares.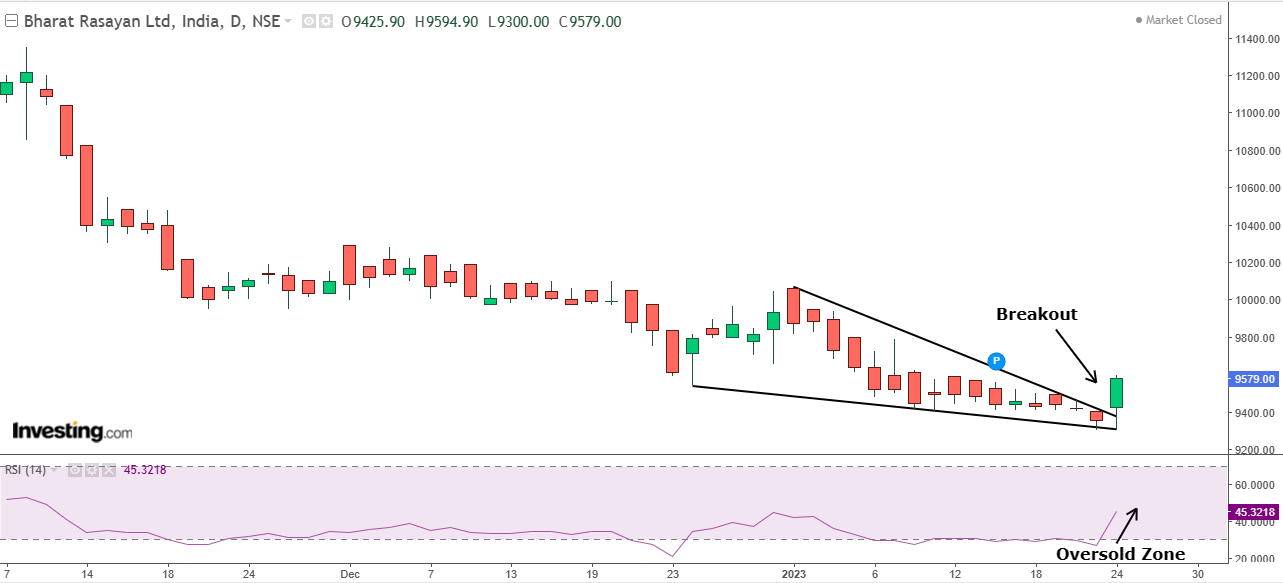 Image Description: Daily chart of Bharat Rasayan with the RSI at the bottom
Image Source: Investing.com
But today, a few minutes before the session closed, the stock witnessed a massive buying spree that propelled it around 3% at a blazing-fast speed, closing the session with a 1.35% gain. The rally kicked in from the oversold zone as depicted by the RSI (daily,14). This momentum indicator showed a reading of 26.7 in yesterday's session, which is comfortably below the benchmark oversold level of 30. These are the levels wherein investors need to get cautious of a surprise rally on account of highly beaten-down prices.
More interestingly, the price rise from the oversold zone was also complemented by another development on the daily chart, i.e. a breakout from the Falling Wedge pattern. This is generally a reversal pattern and when formed at the bottom with the stock breaking above the upper trendline resistance, could lead to a good rally.
The confluence of this reversal pattern breakout from the highly oversold zone makes it a good candidate for a counter-trend rally on the upside. The trend is still quite negative and therefore this trade setup is purely a quick momentum play. The risk-to-reward is highly favorable at these levels as the stock now holds the potential to run to INR 10,060 which is the previous peak. While the support around the recent low of INR 9,300 is a good one to keep a stop loss at. From the CMP of INR 9,480.85, this translates into a 6% minimum upside for a 1.9% risk, or around a 1:3 risk-to-reward ratio.