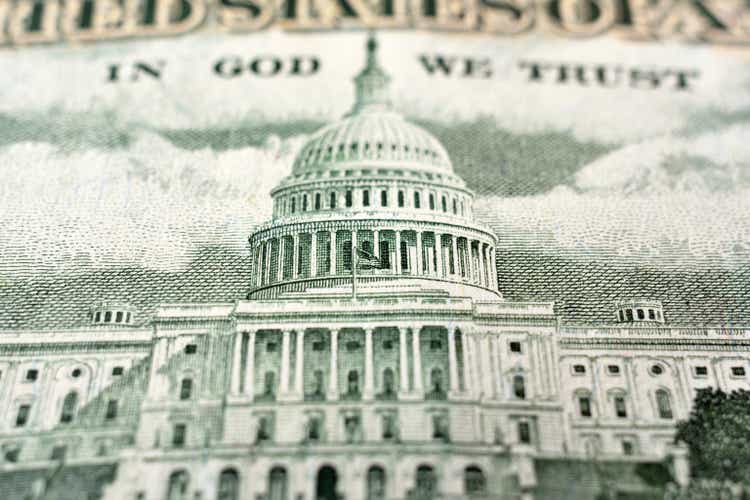 The United States is in danger of losing Fitch Ratings' top sovereign debt status due to "increased political partisanship that is hindering reaching a resolution to raise or suspend the debt limit," the rating company said Wednesday.
The U.S.'s "AAA" long-term foreign curency issuer default rating was placed on Rating Watch Negative, meaning that Fitch is reviewing the rating for a potential downgrade.
Recall that in 2011 the U.S. lost its top rating at S&P as the government approached default in a similar standoff. S&P has not restored the U.S. to its highest rating. Debt ratings are important because lenders base interest rates on a borrower's creditworthiness.
"Fitch still expects a resolution to the debt limit before the x-date," at which point the U.S. Treasury exhausts its ability to pay its obligations, the rating company statement said. "However, we believe risks have risen that the debt limit will not be raised or suspended before the x-date and consequently that the government could begin to miss payments on some of its obligations."
In the past three months, the U.S. Dollar Index (DXY) has dropped 1.7% as the White House and Republican negotiators have so far failed to reach a deal to increase or suspend the $31.4T debt limit. That point was reached on Jan. 19, 2023, but the Treasury has been using extraordinary measures to avert a default since then.
Treasury Secretary Janet Yellen has said that those measures could run out as soon as June 1.
Other countries or sovereigns rated "AAA" by Fitch include Australia, Denmark, Germany, Luxembourg, the Netherlands, Switzerland, Norway, Sweden, the European Union, and Singapore.
Moody's still has a "Aaa" rating, its highest ranking, on the U.S.
Editor's note: A previous version of this story had an incorrect ratings company name in the headline.
Dear readers: We recognize that politics often intersects with the financial news of the day, so we invite you to click here to join the separate political discussion.
More on the Debt Ceiling: