Despite a positive opening of the index, which is up 0.41% to 17,056, by 10:49 AM IST, the FMCG sector is not luring investors. The index is currently down 0.2% to 44,885 and its biggest constituent, ITC Ltd (NS:) is putting a decent pressure. ITC shares hold a weightage of 36.09% in the index and are currently attributing a 0.67% cut in the index.
It is among the largest FMCG companies in India with a market capitalization of INR 4,73,775 crores and trades at a TTM P/E ratio of 26.07, compared to the sector's average of 46.73. The stock has been an outperformer in the last one year, as compared to the benchmark Nifty 50 index, delivering a 55.7% return vs a 1.7% cut in the latter.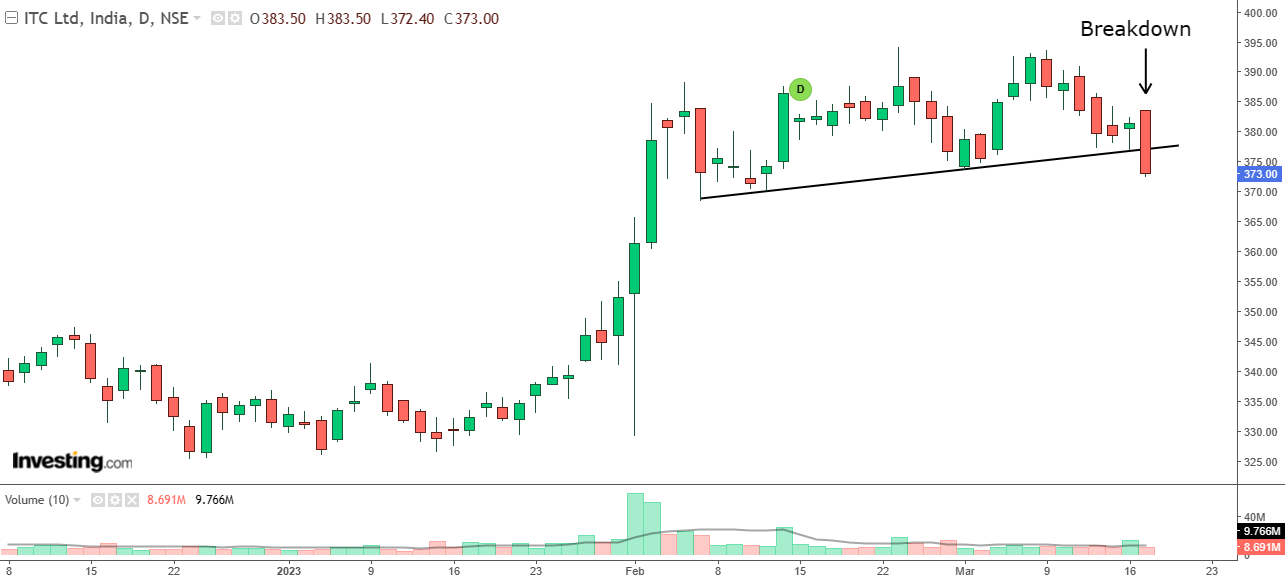 Image Description: Daily chart of ITC with volume bars at the bottom
Image Source: Investing.com
But now it seems like the stock is running out of steam which is clearly visible via its underperformance in today's session. The stock is not just down 2.01% to INR 373.95 but also breached its rising trendline support on the daily chart. This is a bearish signal which might require bulls to run for cover now. Not just that, it is also forming a big bearish engulfing candlestick pattern, engulfing the real body of the past two candles.
As this is a low-beta counter, it moves at its own slow pace, therefore traders looking for immediate action might not find it suitable. If the stock closes today's session below the support of INR 377, then the breakdown would be confirmed and the next level to which bears can look at is around INR 362 – INR 360. Being an outperformer, an extreme bearish is not expected and short positions could be initiated only for a correction.
On the upside, ITC shares might give a brief rally to retest their resistance level (earlier support) which would give short sellers another opportunity to initiate their positions, or long holders to liquidate theirs.
Read More: Dividend Shopping List: Stocks to Watch out for, 'with Levels'!