Although the Indian markets have opened the session in the green, with the index trading 0.29% up at 18,373, by 9:54 AM IST, some of its constituents are facing liquidation from investors' portfolios.
Oil and Natural Gas Corporation Limited (NS:) which holds a weightage of around 0.79% in Nifty 50 is looking weak on the chart. The company has a market capitalization of INR 2,08,832 crores and trades at a TTM P/E ratio of a mere 4.94. FIIs were seen trimming their stake in the company for the last three quarters, cutting it down from 9.97% in June 2022 to 7.97% by March 2023 end.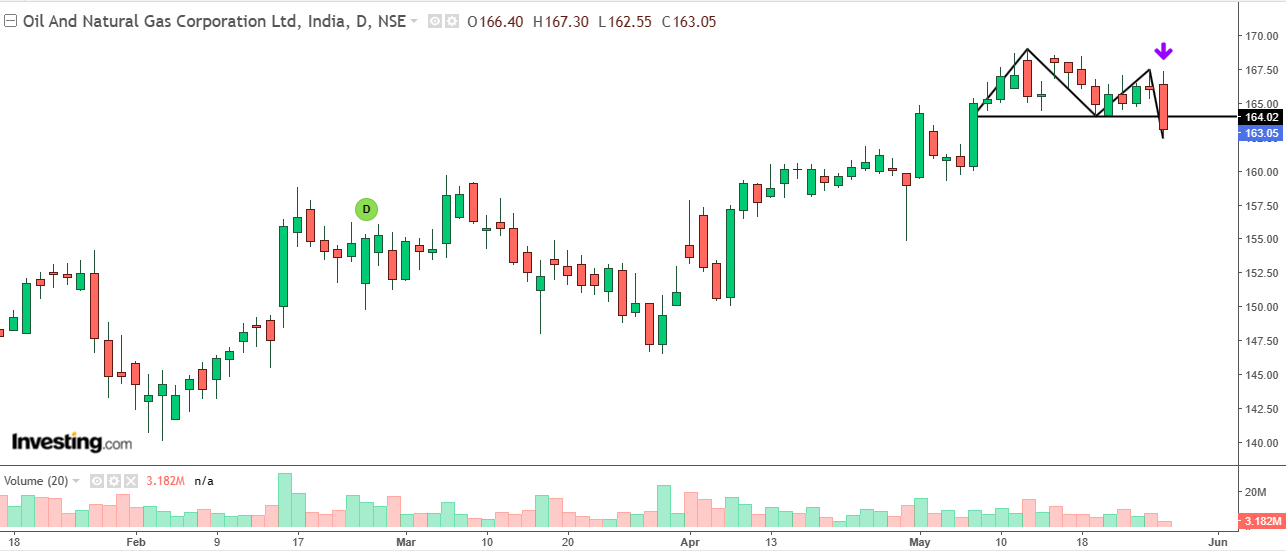 Image Description: Daily chart of ONGC with volume bars at the bottom
Image Source: Investing.com
The stock is relatively weak in today's session, falling 1.69% to INR 163.25 but more importantly, it just broke below its immediate support level of INR 164. It has continuously been rallying since October 2022, from INR 123 odd levels to a peak of INR 169, marked on 12 May 2023. This rally finally seems to be ending as the stock is gearing up for a correction.
The break below the support of INR 164 has also resulted in the formation of a lower high and lower low (LH & LL) structure of the stock price. This is a bearish trend in the simplest form and therefore traders can either think of booking profits on their long positions or initiating a short trade on this counter.
The volume figure is irrelevant to gauge as of now as there has not been even an hour into today's trading session. Also, large-cap stocks generally don't portray a sudden spike in volume figures as their average volume is already on the higher side. Nonetheless, the price action is pointing in a downward direction which should not be ignored. As this is not a very volatile counter, traders should not expect a sharp fall but a gradual one.
As per the options chain data, 160 PE holds the highest OI of 338 contracts, which makes it a good support. But one should not rely on this data too much as today is the first day of the June 2023 expiry and position buildup is not that strong. Therefore, a break below INR 160 could also happen in this expiry.
Read More: 7-Month-High Breakout: Stock Rallies 10% with Volume Jump!