Despite a healthy start of the broader markets, some stocks are not coping with the overall market's mood. REC Limited (NS:) (formerly known as Rural Electrification Corporation Limited) is one such stock that is seemingly coming under a firm grip of bears. 
From a fundamental point of view, it is one of the best companies in the power financing sector and is considered a gem when it comes to dividends. It is a Navratna company that has a market capitalization of INR 32,774 crores and comes under the Ministry of Power, Government of India.  The company has been consistently increasing its revenues at a 10.06% CAGR over the last 5 years, clocking the highest-ever figure of INR 39,339.2 crores in FY22, which is even higher than its market cap.
On the dividend front, the stock is trading at an amazing yield of 9.23% and despite surging 28.2% in the last one year, the P/E ratio of still at a mere 3.26.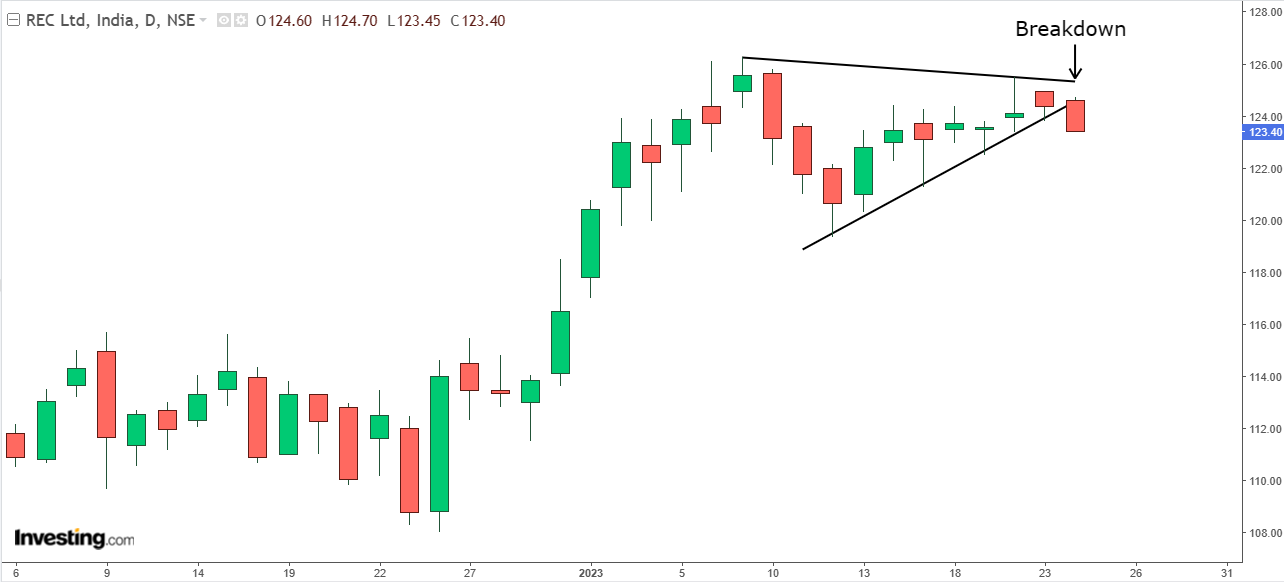 Image Description: Daily chart of REC 
Image Source: Investing.com
With that being said, technical analysis of the stock is indicating a price correction in the immediate future. The stock has been forming a symmetrical triangle chart pattern on the daily chart at the top end of the current rally and today, the lower trendline support of the pattern has been breached. It might be too early to call a breakdown as the session has just started and the price could retrace back by the closing, still, the chart structure is transitioning to a not-so-bullish from here, for the short term.
The overall uptrend that propelled the stock from the low of ~INR 82 odd levels in June 2022 to the recent high of around INR 126 this month is intact. However, as the market never moves up in a straight line, the correction phase in the midst of the ongoing rally could materialize soon. As per the price action, the nearest support to which REC shares could retrace is around INR 115, from the CMP of INR 124 which could provide a quick momentum opportunity to bears. I would reiterate again, at the broader uptrend is still intact.
For a very short-term trader, a level of around INR 119 could also be looked upon for booking profits in short positions. As long as the share price of REC does not cross the previous peak of INR 126.25, the resumption of the uptrend won't happen. 
Disclosure – I have REC shares in my portfolio.