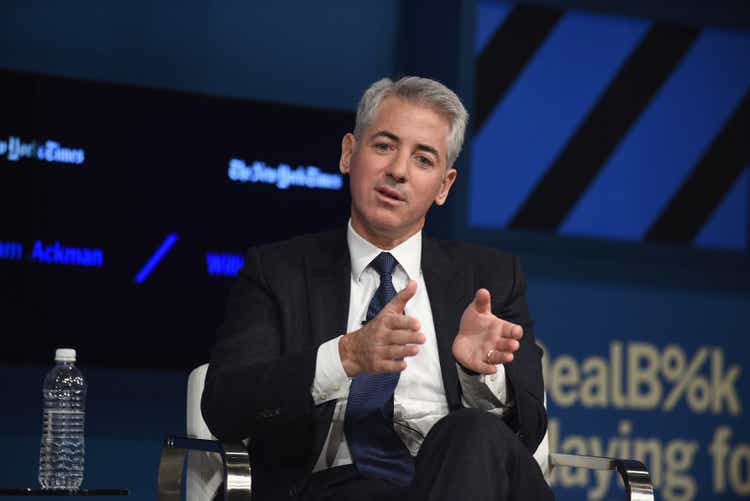 Update 3:52pm: Adds Icahn's response to Ackman.
Carl Icahn's Icahn Enterprises (NASDAQ:IEP) plunged 13% on Thursday as fellow billionaire hedge fund manager Bill Ackman suggested there could be more downside for the stock amid the Hindenburg short call and potential issues with margin loans.
The Icahn holding company has now plunged 37% this week and has fallen for the last five days. Icahn Enterprise (IEP) shares have plummeted 59% since the Hindenburg short report was released on May 2, erasing billions from the 87-year old Icahn's net worth.
Ackman, who was mainly known as an activist until recent years through his Pershing Square hedge fund, had a famous showdown a decade ago with Icahn on CNBC over Ackman's Herbalife (HLF) short call. The billionaire has now injected himself into the IEP fight with a tweet on Wednesday, writing that IEP still trades at a 50% premium to NAV even after its tumble this month.
"Its performance history and governance structure do not justify a premium; rather, they suggest that a large discount to NAV would be appropriate," Ackman tweeted.
Icahn responded to Ackman in a statement to CNBC.
"Taking advice from Ackman concerning short selling is like taking advice from Napoleon or the German General Staff on how to invade Russia," Icahn told the business network.
Ackman also suggested that Icahn's margin lender (s) may be "extremely concerned" with the current situation. Hindenburg, which has said its short the stock and IEP's bonds, originally raised concerns about margin loans in his report earlier this month, where he said IEP's NAV is "overvalued."
"All it takes is for one lender to break ranks and liquidate shares or attempt to hedge, before the house comes falling down," Ackman tweeted on Wednesday.
Ackman said he's neither long nor short Icahn Enterprises, "just watching from a distance."
Icahn, through his representative, didn't immediately respond to a Seeking Alpha request for comment.
Icahn Enterprises (IEP) said in its response to the Hindenburg report that Icahn has advised that he and his affiliates are current and in full compliance with all personal loans. IEP also said earlier this month that the short report didn't impact its liquidity.
Icahn declined to discuss Hindenburg and its report directly in a 90-minute interview for a story that Bloomberg published on Tuesday.
"It's a tough game — a very tough game," the billionaire told Bloomberg in the interview from his waterfront mansion near Miami.
More on Icahn Enterprises