Although I generally don't analyze the index but looking at the daily chart structure of this newly formed index, one could get a hint of the impending direction of the . First of all, why I don't analyze this index is because it's almost similar to the Nifty Bank index. 
The top two constituents of the Nifty Bank – HDFC Bank (NS:) and ICICI Bank (NS:) hold a combined weightage of around 58.71%, while the same stocks make up around 43.13% of the Financial Index. A 16.22% weightage is with Housing Development Finance Corporation Ltd (NS:), which eventually is going to merge with the HDFC Bank and anyway both have a very high correlation. The movement of both is so similar that they are good counters for pair trading. The point I am proving is that there isn't much of a difference between the Nifty Bank and Nifty Financial Services index.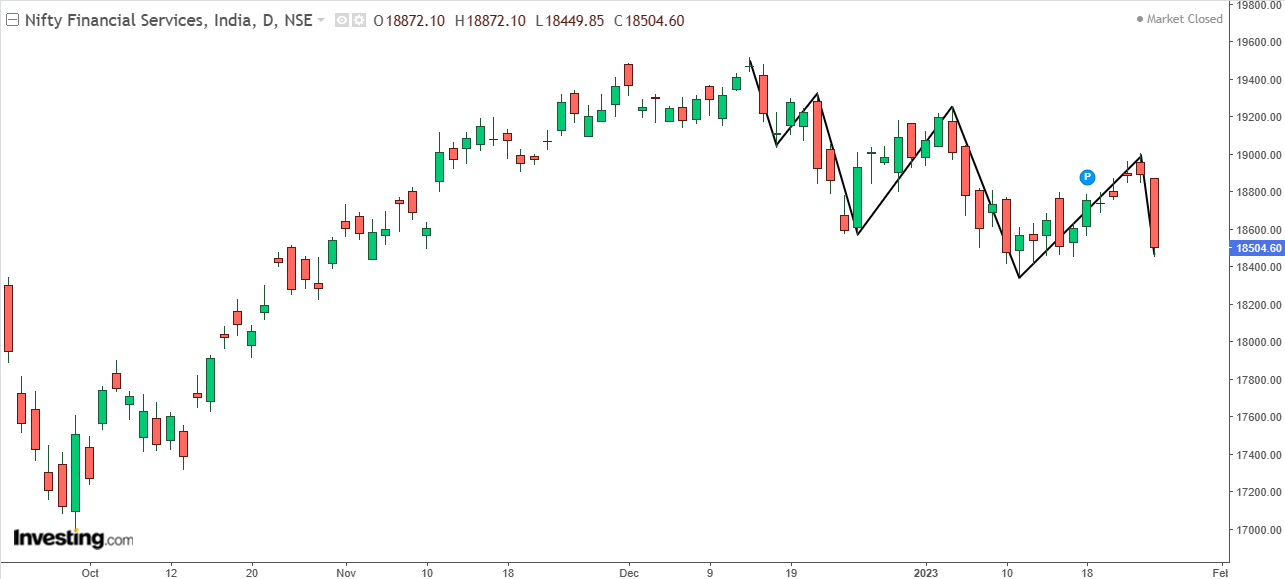 Image Description: Daily chart of Nifty Financial Services (spot)
Image Source: Investing.com
Now coming to the latter, there is more clarity on the trend which is highly negative. As can be seen from the chart above, the index had been making a very clear lower high and lower low formation on the daily chart and since the correction from the top of 19,515.90, the immediately preceding peak had never been breached.
Although the demand zone of 18,400 is quite visible, where the buyers are kicking in to support the prices. The last time index fell to this zone, it eventually bounced back around 600 points to ~19,000, depicting the strength of the buyers at these lower prices. After today's market-wide selling, the index has been thrown off by around 400 points to 18,488.55, again heading for the demand zone. 
As the trend is clear in this index, it might easily break this support zone this time, which would also mean a probable breakdown in the counterpart – Nifty Bank as the majority of the weightage is with the two private baking stocks that are common in both the indices. As long as the peak of 19,000 is not taken out, the view on Bank Nifty would also not turn bullish.
However, the most important thing to note is, we are just 4 sessions away from the budget day and therefore utmost caution should be maintained from here on. The volatility has already started to pick up with the jumping 7.32% to 14.66 today and as 1 February 2023 is coming closer, the volatility might keep on expanding, which could lead to numerous whipsaws.