The Federal Reserve's new facility set up after the collapse of two U.S. banks last week could see up to $2 trillion of use, according to a new analysis.
The Fed last weekend set up a lending program called the Bank Term Funding Program. What's unique about it is that banks are allowed to pledge collateral at par, at a time when those securities are trading at a loss due to the surge in interest rates over the last year.
The downturn in bond prices was among the factors that led to the collapse of SVB Financial
SIVB,
-60.41%.
Analysts at JPMorgan led by Nikolaos Panigirtzoglou point out that six regional banks on their own have a combined $460 billion of uninsured deposits. They say $2 trillion is the par amount of bonds held by U.S. banks outside the five largest.
"There are signs of reserve scarcity in the U.S., where unsecured borrowing rates in the Fed funds market for the most distressed borrowers have risen well above the Fed's policy rate raising similarities to 2018/2019. Another manifestation is in the collapse of SVB, as depositors sought to move deposits to other banks there were insufficient reserves to settle these transactions forcing it to sell debt securities and crystallize losses," the analysts said.
The U.S. banking system has lost $1.3 trillion of reserves since the end of 2012. And the need by the Fed to inject more liquidity into the banking system may be more pressing if the banking system keeps losing deposits to government money market funds.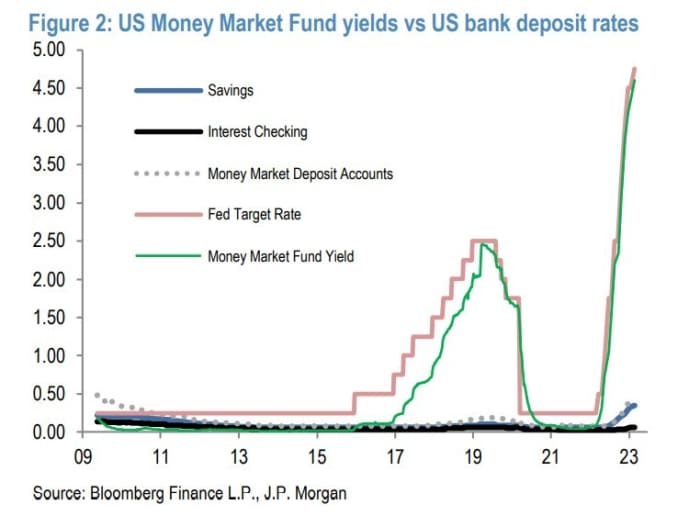 "While it seems inevitable that bank deposits rates will rise faster over the coming months to compete with money market funds, the events of the past days are raising the risk that more depositors (in particular large institutional depositors ) will seek the safety of government money market funds in the current juncture," they said.
Regional banks including First Republic Bank
FRC,
-32.80%
and Western Alliance Bancorp
WAL,
-15.14%
were trading lower in premarket action on Thursday.