For the entire weekly expiry that ended today, the benchmark index almost traded in a range. The index fell a bit in the first few sessions and pared those losses in the next few. Even today, till 3:00 PM there wasn't much of an aggressive move seen in the index as it was very calmly inching higher. Before the last 30 mins, the index was hovering around 18,400, some ~40 points below the previous week's high of 18,442. 
But what spoiled the party for the bulls was the last half hour during which we saw a ferocious rally out of nowhere. To give a glimpse of what the last 30 mins were like, I have posted the 5-minute intraday chart of the index. Looking at this sharp rally and that too on an expiry day makes a very clear statement that risk management should never be taken lightly. I was not expecting the level of 18,450 to be taken out in this expiry which was the case till 3:00 PM today. Even if someone had a good week so far but was wrongly positioned in those 30 mins, would have incurred a decent loss.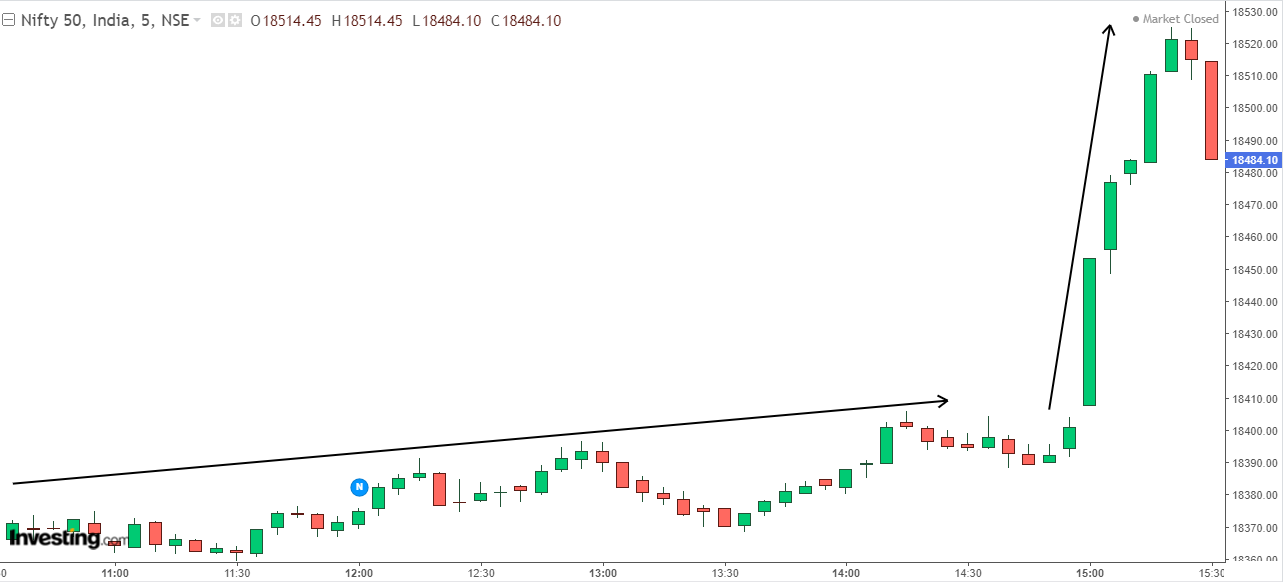 Image Description: 5-minute chart of Nifty 50 
Image Source: Investing.com
Now for the next weekly expiry ending on 1 December 2022, the upside is quite open. Today's blistering rally might continue, for a few days, and there is virtually no resistance present till the all-time high level of around 18604. As the previous week's high has been breached, the trend has again accelerated on the upside. 
Although, it is surprising to see such a sharp rally when the is less than 13.5, but it is what it is. The VIX closed at 13.48, the lowest level since August 2021. When the volatility is so low, the premiums on index options also tend to decrease which makes it a difficult proposition for option sellers if such sharp moves come. Hence naked option selling is not recommended on either side due to very low premiums, especially on the downside. Because if a correction takes place from here, the volatility might also spike and therefore the vega component of the options would start to give a loss. 
As long as we don't see the India VIX reverting back to the mean, the trend should be deemed bullish. On the downside, the new support of 18,150 – 18,100 is expected to keep the index from falling in the next week.