In the short week, on account of the Republic Day holiday tomorrow, the weekly expiry is taking place today. While everything was calm on both the previous sessions of the week, the index seems to have surprised bulls in today's session, as it cracked over 1.3% to the day's low of 17,846.6, by 11:56 AM IST. 
Although some selling pressure was being witnessed in small and midcaps throughout the week, today bears pounced on the frontline stocks which dragged the index over 230 points in a jiffy. Taking a look at the index constituents first, heavyweight banks – HDFC Bank (NS:) and ICICI Bank (NS:) are proving to be the biggest drag, including Reliance Industries (NS:), all of which are down 2.59%, 1.98%, and 0.94%, respectively. In fact, the itself is taking a hit of 2.25% to 41,763 and the index is the biggest loser so far, plunging over 3.36% to 4,049. 
The is now pointing out a fearful situation among market participants, as it aggressively shot up by 12.8% to the day's high of 15.42. A falling market coupled with a rising VIX is not a good sign for bulls, especially when the index is nearing a major support level of 17,800. As indicated many times in the previous analysis, this level has become 'the level' to decide the fate of the index.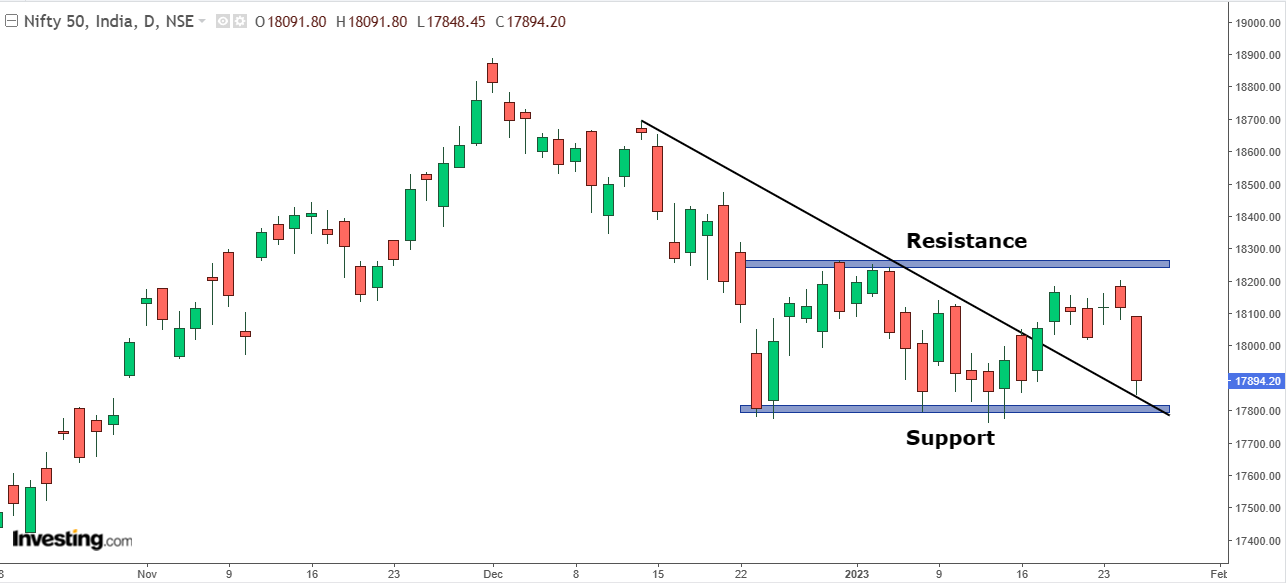 Image Description: Daily chart of the Nifty 50 (spot)
Image Source: Investing.com
There have been exactly 5 penetrations below this level in the recent past and none of the times the market had been able to close below it, with a reversal to the upside materializing every time. Today, this level was spared by around 46 points as the index cracked, but that has increased the possibility of a yet again retest of this support. The bullish view is still intact, as indicated earlier, as long as the market is not breaking below this support on a closing basis.
However, as the resistance on the upside is quite stiff, now the market can more or less be deemed in a range, where traders can do mean-reversion trading – buying the support and selling the resistance. The next major move would come on the break of either the 17,800 or 18,300. This 500-point range is quite established now as the Nifty 50 is going nowhere for the last many days. However, looking at the sharp rally in the India VIX and the marking of a new low for the year in the Nifty Bank, the likelihood of a support break in the Nifty has increased.