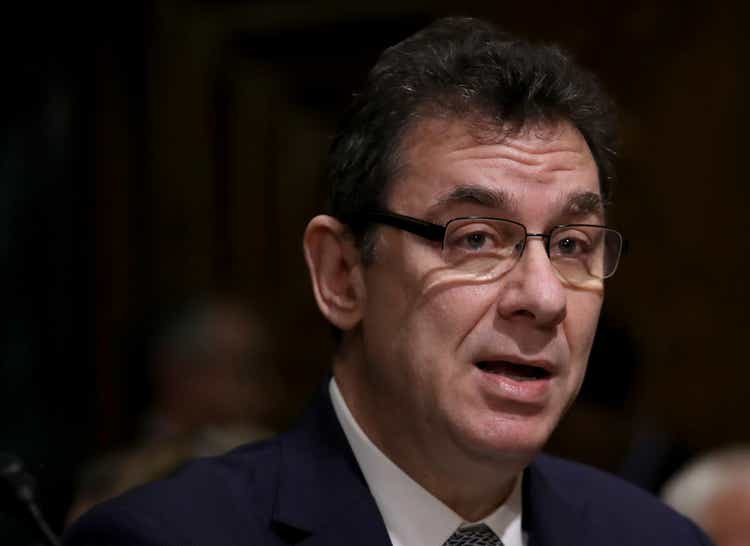 Pfizer (NYSE:PFE) Chief Executive and Chairman Albert Bourla will likely become one of the top-earning pharma CEOs for 2022 after the pharma giant took his total compensation to $33.0M handing him a ~36% pay hike for last year.
Meanwhile, Johnson & Johnson (JNJ), whose former helmsman Alex Gorsky was the highest-paid pharma CEO in 2021, rewarded its new CEO Joaquin Duato, with a $13.1M package, indicating a ~51% decline in the company's top executive pay.
Gorsky relinquished his CEO role in 2022 after a decade-long tenure as its chairman and CEO, while Bourla, 61, is now serving in his fourth year in the dual leadership position.
In 2021, Bourla earned $24.4M, after a ~16% rise from the prior year as the company's top line jumped ~95% YoY thanks to its blockbuster COVID-19 shot which accounted for over 45% of the top line.
However, Pfizer's (PFE) explosive growth sputtered, and its share price fell as the pandemic subsided. The company revenue reached $10.3B in 2022, which implies a ~23% YoY rise, but still indicates more than double that in 2020.
After a ~59% climb in 2021, its share price tumbled ~13%, underperforming its mega-cap pharma rivals, as indicated in this graph.
Bourla's 2022 pay also demonstrates a ~42% rise in his equity-based compensation and a ~4% decline in his non-equity-based incentives, which stand at $18.8M and $7.7M, respectively, according to Pfizer's latest proxy statement.
Meanwhile, Stéphane Bancel, CEO of rival COVID vaccine maker Moderna (MRNA), earned $19.4M in 2022 after the Massachusetts-based biotech raised his total compensation by ~7%.
Having recorded $18.5B in revenue for 2021, Moderna's (MRNA) top line reached $19.3B last year, indicating a ~4% YoY rise while its share price plummeted ~29%, following a ~141% jump in the prior year.
Pfizer (PFE) says that the company's executive compensation implies a median of compensation data from its big pharma peers and a group of non-pharmaceutical companies of similar size and complexity.
The pharma peers it has considered include AbbVie (ABBV) and Eli Lilly (LLY), where top management earned $26.3M and $21.4M for 2022, indicating a ~10% rise and ~1% decline in their pay from the prior year, respectively.