The Auto sector is buzzing in Tuesday's session, all thanks to Maruti Suzuki's (NS:) stellar Q3 FY23 earnings report. The company more than doubled its net profit to INR 2,351 crores, backed by improved realizations, a downtick in commodity prices, favorable forex exchange rate movement etc.  
Cheering to Maruti's numbers, the entire auto pack is witnessing demand, leading to a breakout in many counters with the index becoming the top-performing sectoral index, clocking a 1.28% gain to 12,960.85. After analyzing the breakout of Tata Motors (NS:) today, the next up from the same space is Bajaj Auto Limited (NS:). It is a two-wheeler manufacturer with a market capitalization of INR 1,02,531 crores, making it the 53rd largest listed company on the NSE.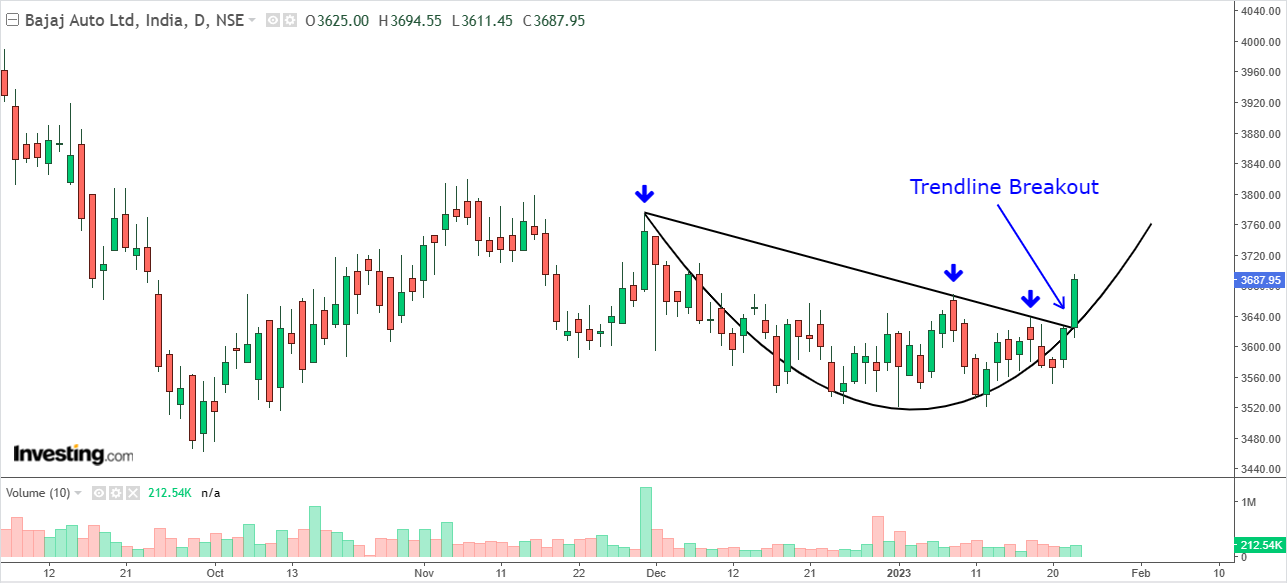 Image Description: Daily chart of Bajaj Auto with volume bars at the bottom
Image Source: Investing.com
For around a month, the stock had been consolidating in a range. This range allowed nimble traders to do mean-reversion trading, i.e. buying near the bottom and selling near the top, which is an apt method during a range-bound market. However, this range gradually turned into a rounding bottom chart pattern, which depicts a good base formation.  
This pattern is called so because of its curved base at the bottom and works in a similar fashion to any other base formation, i.e. it implies a probable trend reversal towards the north. Today, as the entire auto pack is strong, the share price of Bajaj Auto delivered a healthy breakout from this base, surging 1.67% to 3,684, by the closing.
As the reversal is taking place, the stock also surged past the trendline resistance on the daily chart. This is another trend-reversal signal. The confluence of both reversal signals which work differently is making the stock a good opportunity for bulls. It was also able to hold the gains by the closing, which is very important for a breakout signal and improves the reliability of the impending move. 
The only concerning thing is the average volume, which was recorded at 212.3K shares. Had there been a higher volume, it would have added more confidence to the move. Nonetheless, the reversal seems quite good and as the volume is not up to the mark, it might be a better idea to play the momentum and book profits before the rally fizzles out. 
On the downside, the lower end of the base, i.e. INR 3,520 is a good support level for the long positions, while the stock could touch the level of INR 3,800 by the next few sessions.