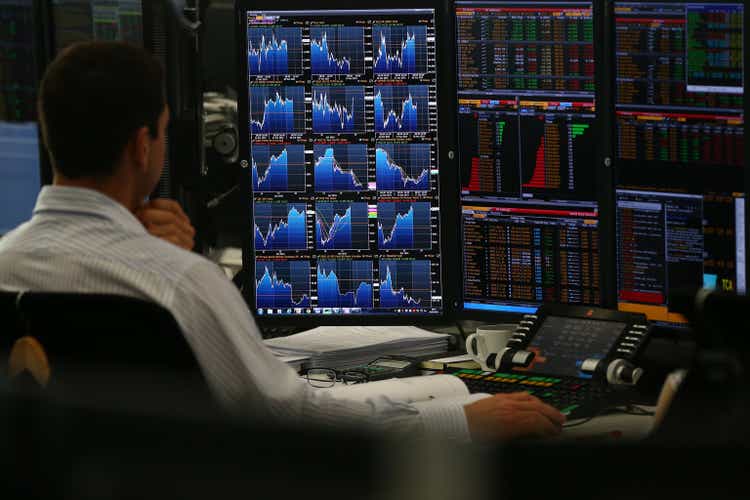 Stock index futures were cautiously higher Friday with longer yields continuing to decline.
S&P futures (SPX) were +0.3%, Dow futures (INDU) were +0.4% and Nasdaq 100 futures (NDX:IND) were +0.1%.
Going into today's trading, the S&P 500 (SP500) was up 2.1% for the week, with the Nasdaq (COMP.IND) up 2.3% and the Dow (DJI) up 1.9%.
Rates declined. The 10-year Treasury yield (US10Y) fell 3 basis points to 4.40%. It hasn't been below 4.4% since September. The 2-year yield (US2Y) fell 2 basis points to 4.82%.
"The market is clearly eying a change in the rate cycle," ING said. "Futures are pricing a 100bp of rate cuts from the Fed over the course of next year, with the first rate cut possibly coming ahead of the summer. As a result, the UST 2Y yield has been testing the 4.8% level over the past sessions."
"The potential rate cycle change is still being weighed against the term premium narrative as a 20Y auction next week and greater uncertainty about next year's presidential elections are not helping either the near or long-term perspective. Reuters also cited Fed officials' letter to a Senator that the central bank's balance sheet could shrink considerably further before levels consistent with the ample reserves framework are reached."
On the economic data front, October housing starts and building permits figures arrived. Housing starts came in at 1.37M compared to the expected annual rate of 1.35M. Building permits came in at 1.48M compared to the forecasted 1.45M.
"Monthly noise aside, multifamily construction activity clearly is softening, lagging the rollover in rents and the surge in financing costs," Pantheon Macro's Ian Shepherdson said.