Wednesday's session was not a good one for the bulls, with the falling a surprising 1.25% to 17,891.95 by the closing with all sectoral indices ending in deep the red, especially the PSU banking space. In today's market gloom, finding stocks in the green was a difficult task as broad-based selling affected almost every counter.
However, the share price of Home First Finance Company India Limited (NS:) was in its own league, defying the market's mood in style. The company is in the business of home financing with a market capitalization of INR 6,635 crores and is especially focused on loans to low and medium-income groups through its 102 Pan India branches.
Yesterday it announced its Q3 FY23 earnings, posting a 7.6% YoY jump in revenue to INR 6,751.2 crores, while profit after tax (PAT) jumped to INR 58.73 crores, an increase of 8.2% YoY. This translated into an EPS (earnings per share) of INR 6.69, the highest in 3 quarters. It also turned out that mutual funds increased their holdings in the reported quarter to 3.91%, from 3.85% in the September 2022 quarter.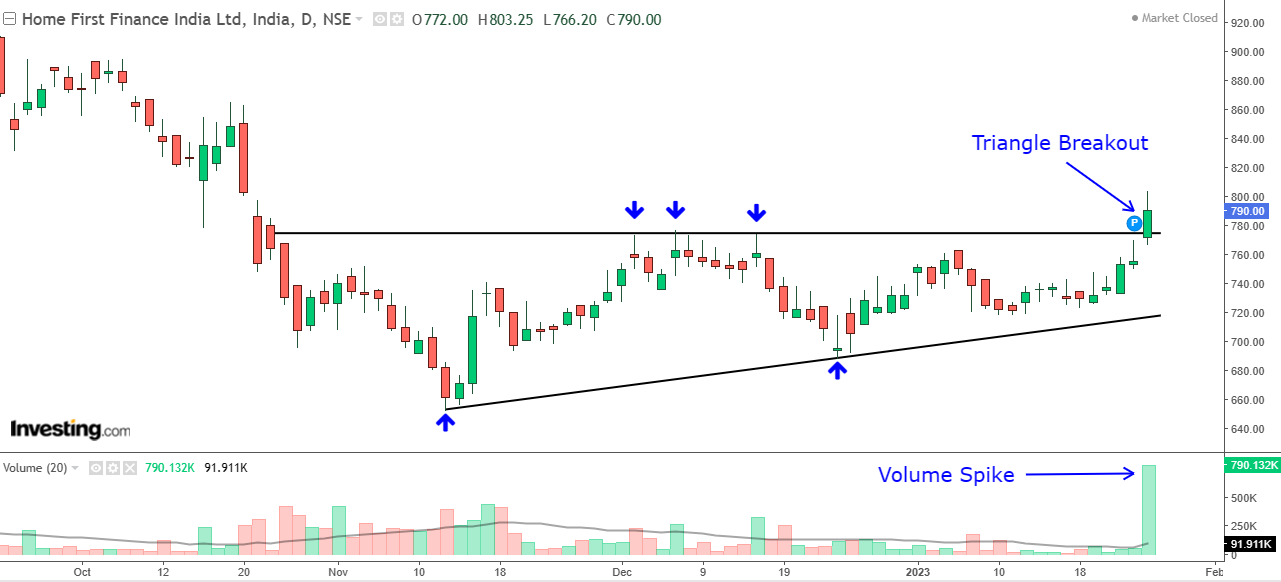 Image Description: Daily chart of Home First Finance Company India with volume bars at the bottom
Image Source: Investing.com
The overall performance of the company led its share price to rally 4.95% to INR 792.65 as the stock broke above the resistance of an Ascending triangle chart pattern. This pattern breakout has confirmed the potential upside in the stock after almost three quarters of consolidation. The breakout is also supported by a heavy volume, with a total of 788K shares exchanging hands, which is over 1,970% higher than the 10-day average volume of 38.3K shares. In fact, the volume figures significantly contracted a few sessions before the breakout which was another indication of a strong move as investors decided to stay on the sidelines till the results are out.
Now, as the stock surged past the resistance of INR 777 – INR 780 on a closing basis, the upside from here could help it to travel to around INR 850 which is a good supply zone. It might take bulls a bit of effort to break through this hurdle before the stock could continue its rally. Therefore, booking partial profits in long positions around INR 850 would probably not be a bad idea. On the flip side, the lower trendline of the triangle could be extended in case one needs an exit level to curb losses.