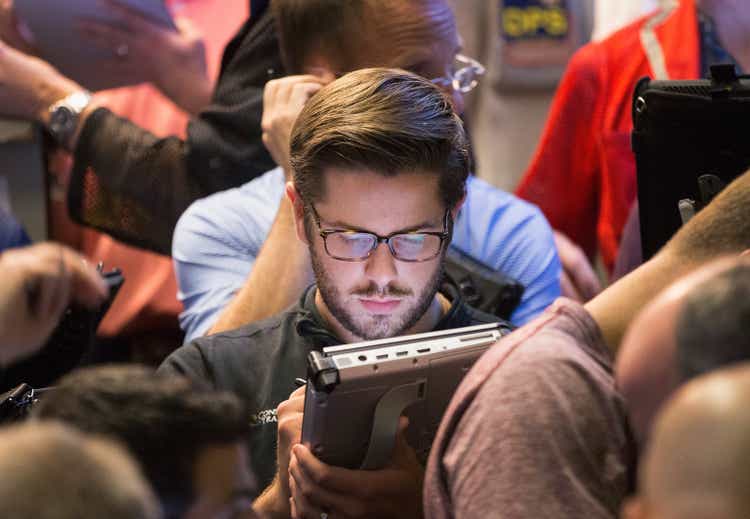 Major averages opened trading a little higher following a tech-led rally and the latest inflation data, with hope of a debt ceiling deal helping sentiment.
Early on and the S&P 500 (SP500) gained 0.2%, the Dow (DJI) picked up 0.3% while the Nasdaq Composite (COMP.IND) advanced by 0.3%.
Going into Friday, the S&P 500 (SP500) is down 1%, the Dow (DJI) is off 2%, but the Nasdaq (COMP.IND) is up 0.3%.
Yesterday's "gains for equities were actually very narrow and solely driven by the large tech stocks," Deutsche Bank's Jim Reid said.
There are reports that there is a framework for a debt ceiling deal that would involve a cap on federal spending for two years.
There's "now some more optimism again around the debt ceiling, particularly after comments from Speaker McCarthy suggested that a deal was near, and that he would be staying in town over the long weekend to work on a deal," Reid said.
The 10-year Treasury yield (US10Y) gained 2 basis points to 3.83%. The 2-year yield (US2Y) picked up 8 basis points to 4.59%.
"Markets are in the process of taking valuations back towards those that prevailed just ahead of the Silicon Valley Bank collapse," ING said. "UST 10Y yields have broken above 3.80% again, and that 4% level does not look so elusive anymore. A 25bp hike is now almost fully priced by July, the forward fed funds rates are peaking just above 5.30%."
On the economic front, April personal income and spending numbers arrived. Spending increased by +0.8% M/M versus the expected +0.4% figure. Personal income came in in-line with forecasts at +0.4% M/M. At the same time the PCE price index increased to +0.4% M/M compared to the prior +0.1% reading.
Moreover, April durable goods orders increased to 1.1% M/M in April compared with the 1% decline expected and the 3.3% growth seen in March.
"Empirically, some aspects of inflation have been extremely slick," UBS' Paul Donovan said. "The US has had the biggest collapse of durable goods inflation in the near 70-year history of the measure. The plunge of over 20 percentage points is more than twice the previous record. There is no stickiness here. Other economies have also seen durable goods' inflation rates sliding rapidly into disinflation, demographics and deglobalization notwithstanding."
Among active stocks, Marvell rallied as results and guidance topped estimates.
More on the markets