The benchmark index ended Monday on a healthy note, gaining 0.5% to 18,118.55 with the majority of the sectoral indices closing the session in the green zone. Looking at the stock-specific action, the share price of Kabra Extrusion Technik Ltd (NS:) remained in the limelight on account of a mind-boggling 18% intraday rally.
The company manufactures allied equipment, having a market capitalization of INR 1,576 crores and trades at a P/E ratio of 52.07, compared to the sector's average of 54.55. Kabra Extrusion Technik shares remained on investors' buying list as burgeoning demand propelled the stock 18.3% up to INR 555.45, the highest closing in over a year. The stock is also an inch away from printing a new all-time high on the chart.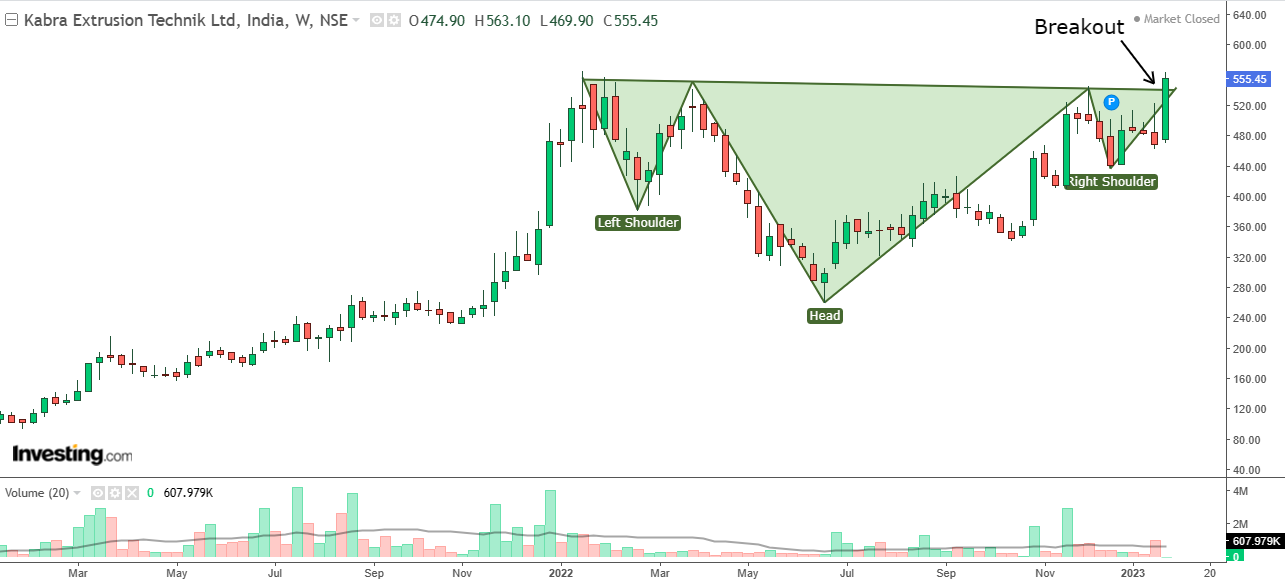 Image Description: Weekly chart of Kabra Extrusion Technik with volume bars at the bottom
Image Source: Investing.com
Today's rally has essentially delivered a breakout on the daily chart as the stock surged past a major hurdle of INR 540 on the back of a massive volume expansion. Monday's trade recorded a total volume of 1.92 million shares on the NSE, which is not just the highest one-day volume in a year, but also around 1,570% higher than the 10-day average figure of 115K shares.
It is also on the verge of an all-time high breakout as the previous print is INR 564.45, marked in January last year and is an inch away from today's high of INR 563.1. When zooming out a bit, one can also see the formation of an Inverse Head and Shoulders pattern which is another bullish sign for the current up move. This is a reversal pattern that is known to turn a prior downtrend to an uptrend, however, as it is formed around all-time high levels, the implications are not as great.
Nonetheless, a blistering rally, just beneath the last supply zone is an encouraging sign for the stock. Although it is difficult to estimate a target level for an all-time high stock as there are no further resistance levels present above the CMP but as the momentum is there, the stock could easily go for another INR 100. The demand zone of INR 440 – INR 435 is a strong one, which could also be used as a stop-loss level for long positions.