Although trading or investing in penny stocks is quite risky, seasoned traders who know how to manage their risks should look at the shares of Hindustan Motors (NS:). It is a penny stock with a mere INR 348 crores of market capitalization and is roughly 2.86 times more volatile than the index.
The stock had been going in a sideways direction for a long time now. Despite the broader markets moving significantly high from the June 2022 lows, the stock virtually stayed at the same level since the last week of June 2022. The long consolidation phase of the stock lasted for about 5 months which really compressed its volatility.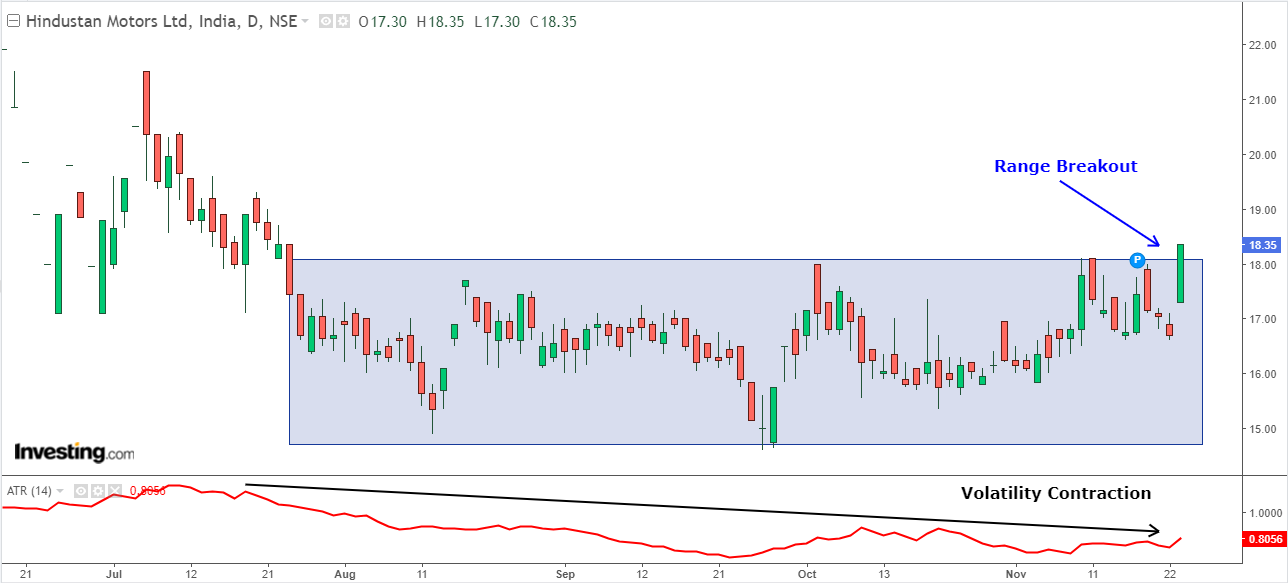 Image Description: Daily chart of Hindustan Motors with ATR at the bottom
Image Source: Investing.com
This volatility compression is a direct result of such a narrow range of stock as market participants are finding it difficult to gauge the future direction. This leads to a tug-of-war between the bulls and the bears and the final result is the breakout either above or below the range, depending on which side wins the battle.  
The volatility contraction in the stock can be gauged by the Average True Range (ATR). It is a technical indicator developed by Wells Wilder and depicts the average movement of the stock over the last n number of periods. In the case of Hindustan Motors shares, the ATR has been hovering around 0.8 for the last few months, dropping from the high of around 1.2 in the first week of July 2022. That's almost a 33% drop in the volatility of the stock over the course of a few months.
The reason I'm emphasizing on the volatility here is because it has a property of mean reversion. Whenever a stock's volatility contracts for too long, that's when a reversal in the volatility could be expected. The direct result of this is a very sharp move in the stock. As of today, the stock hit an upper circuit of 10%, at INR 18.35, clearly surpassing the upper end of the range and the bulls finally seem to be winning the battle.

A level of around INR 21.5 – INR 22 could easily be on the screen in the next few days which should also be the initial target. On the downside, the support zone of around INR 15 – INR 14.5 is quite strong, which would be difficult for the stock to breach. In case that happens, the view on the stock would change to negative.