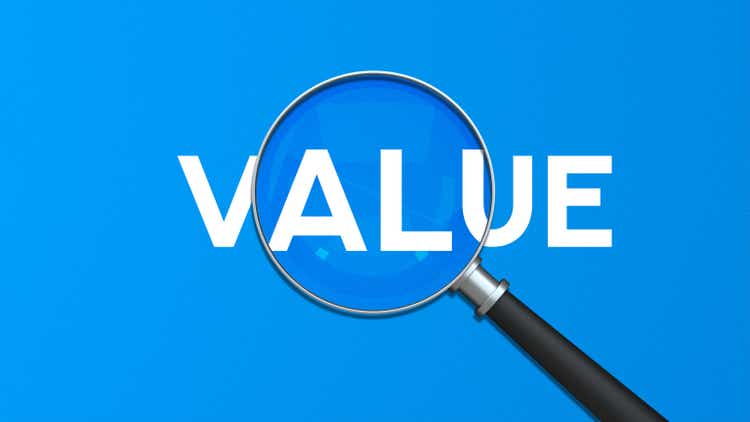 Tech-heavy growth names may have supported the broad market averages in 2023, with value spending much of the year under the radar. As 2024 approaches, Seeking Alpha has constructed a top 10 list of value names that quantitative measures say have a good chance for success.
The names included in the below list all follow the bulleted criteria:
A market cap of $1B or more.
A valuation grade of A or higher, according to the SA Quant Ratings.
Ranked by scores on Seeking Alpha's Quant Rating system, which grades stocks based on quantitative measures, like growth and momentum.
Top 10 Value Stocks
No. 10: Federal Home Loan Mortgage Corporation (OTCQB:FMCC): Quant Rating of 4.92
No. 9: Federal National Mortgage Association (OTCQB:FNMA): Quant Rating of 4.92
No. 8: Enel Chile S.A. (ENIC): Quant Rating of 4.93
No. 7: PBF Energy (PBF): Quant Rating of 4.93
No. 6: KB Financial Group (NYSE:KB): Quant Rating of 4.94
No. 5: Manulife Financial Corporation (NYSE:MFC): Quant Rating 4.95
No. 4: SkyWest (SKYW): Quant Rating 4.95
No. 3: M/I Homes, Inc. (MHO): Quant Rating 4.95
No. 2: Intesa Sanpaolo S.p.A. (OTCPK:ISNPY): Quant Rating 4.96
No. 1: Gulfport Energy Corporation (GPOR): Quant Rating 4.97
Year-to-date performance: FMCC +76.1%, FNMA +101.7%, ENIC +40.9%, PBF +10.4%, KB +7.5%, MFC +7.5%, SKYW +181.9%, MHO +125.1%, ISNPY +31.8%, and GPOR +75.3%.
Additionally, market participants can also monitor value-focused exchange traded funds as other investment options. See a group of funds below:
On a separate note, see Wall Street's top 10 growth stocks according to SA Quant Ratings.