Oil prices have seen a noticeable plunge in yesterday's session. April 2023 futures contract closed a whopping 7% down at 5,564 on Wednesday, marking its third consecutive day of fall. With oil prices falling to the lowest level of 2023, many oil-dependent sectors are coming on investors' radar and one stock from the OMC space is Indian Oil Corporation Limited (NS:) or IOC.
Indian Oil Corporation is an oil refining and marketing company with a market capitalization of INR 1,09,863 crores. It is also one of the high dividend-paying PSUs and is currently trading at a lucrative dividend yield of 10.53%. However, due to high oil prices in 1H FY23 and the government's cap on retail prices to curb inflation led to losses for these OMCs which translated into no dividend payouts.
From Q3 FY23, IOC has again turned profitable and with international lower oil prices, it can expand its retail margins, the impact of which would be seen in Q4 FY23. For 9M FY23, the company didn't pay any dividends due to tough market conditions but it might give a good final dividend for the year closing.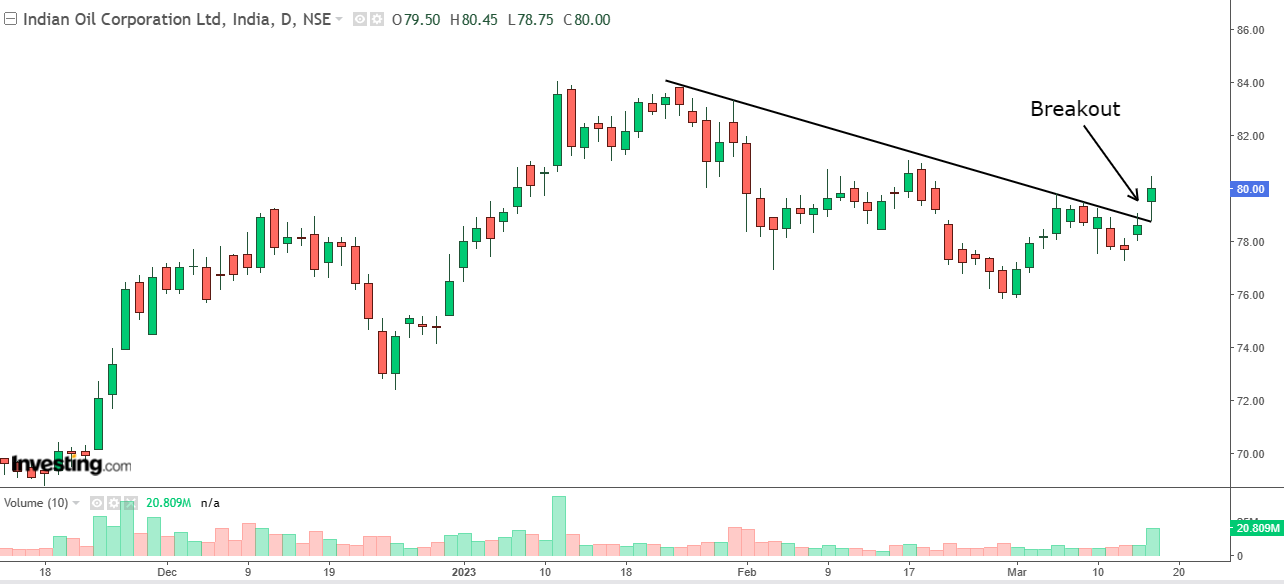 Image Description: Daily chart of IOC with volume bars at the bottom
Image Source: Investing.com
Coming to the technical setup, as sentiments are improving in the OMC sector, the share price of IOC delivered a good falling trendline breakout on the daily chart as it gained 2% to INR 80.15, by 1:41 PM IST. The stock also crossed its previous swing high of INR 79.8, marked on 6 March 2023 which is changing the chart structure toward positive.
On this breakout day, volume expansion has also been witnessed. As of writing, a total of 20.52 million shares have exchanged hands which is roughly 201% higher than the 10-day average volume of 6.81 million shares. If traders want to look at other options, Bharat Petroleum Corporation Limited (NS:) or Hindustan Petroleum Corporation Limited (NS:) can also be taken into consideration as both are also looking quite strong on the chart.
As it is a low-beta counter, a sharp rally should not be expected. On the upside, the previous high of INR 84 can again be revisited.
Disclosure: I hold IOC shares in my portfolio.
Read More: Technical View: An 'Outperformer' from the 'Oversold' Zone!