The share price of Laxmi Organic Industries (NS:) made a buzz in today's session as many stocks in the chemical and fertilizers space are on the move. This company is a specialty chemical manufacturer offering acetyl intermediates and specialty intermediates and has a market capitalization of INR 7,647 crores. 
The company's Q2 FY23 financial performance remained subdued, as it took a 13.6% QoQ hit on revenue to INR 655.05 crores while net profit tanked 88.6% to INR 8.59 crores in the same period. Despite a disappointing result, we have seen mutual funds increasing their stake to 1.35% in the company in the same quarter. 
As the entire chemical and fertilizers space is delivering good gains to investors for the last few sessions, the share price of Laxmi Organic started its move today. The stock had been tanking continuously after it made a short-term high of INR 395.8 in mid-September 2022. Since then, the stock had been making a lower low and lower high formation which was a clear representation of a downward direction.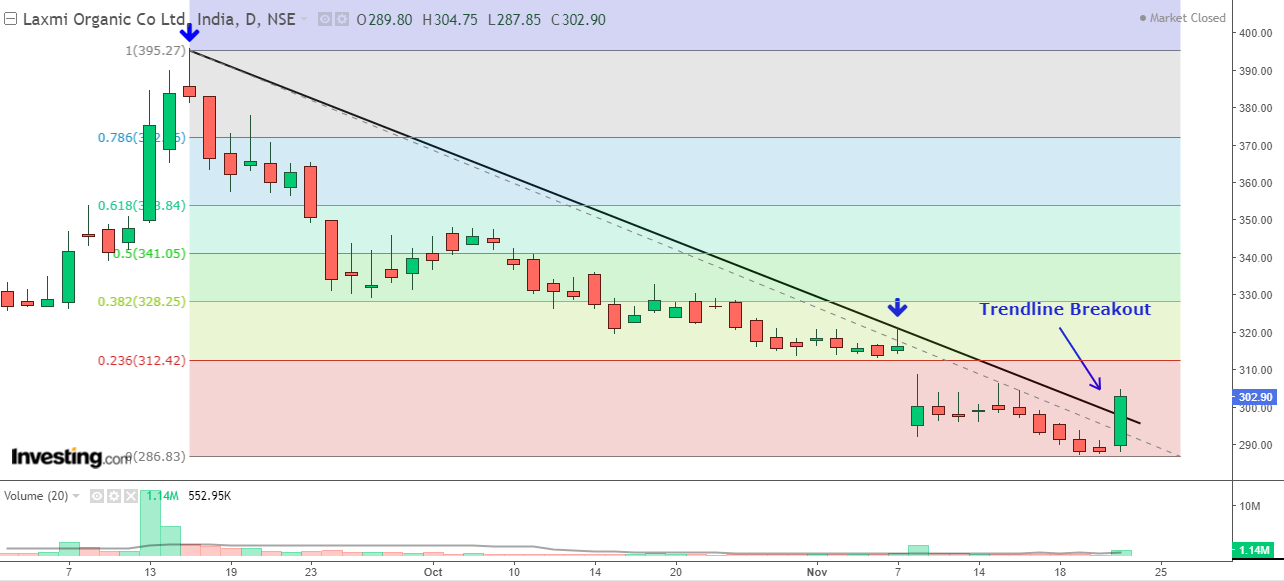 Image Description: Daily chart of Laxmi Organic Industries with volume bars at the bottom
Image Source: Investing.com 
But today, the stock surged past the falling trendline resistance on the daily chart and gave the first sign of a reversal. More importantly, the stock has also been able to close above this crucial resistance which is showing the strength of the bulls going into the session's close. Although this breakout is an early signal, if the stock manages to clear the previous peak of INR 306.4, then the second confirmation would also come in the form of a changed chart structure to a higher high and higher low formation.
Today, the stock rose 5.03% to INR 302.9 and is just a few ticks away from the previous peak. The volume on today's breakout has also been a good one, with over 1.13 million shares which is noticeably higher than the 10-day average of 645.8K shares. However, I would have preferred a bit more volume expansion. Nonetheless, the broader sectoral strength of the industry is surely a great help for the stock and if the entire sector rallies from here, Laxmi Organic shares would also likely participate.
On the upside, there is a decent resistance around INR 313 – INR 314 which would be a key level to watch out for. Once the stock breaks this level, then at least a 50% retracement of this entire previous fall could be there in the next few weeks which is around INR 340.