The index is outperforming the broader markets in today's session, as it is up 0.54% to 12,866, by 11:32 AM IST, compared to a 0.14% rally of the . The biggest contribution to the Nifty Auto index is coming from Tata Motors (NS:) which holds a weightage of 12.41% and is up 3.65% to INR 422.8, attributing 0.46% gains to the index. 
It is an automobile company with a market capitalization of INR 1,46,417 crores and is the only loss-making company in the Nifty 50 list. In fact, the company has been reeling under losses for the last 4 fiscal years ending FY22, and the first 2 quarters of FY23 were also loss-making. However, ignoring the fundamentals, the stock is attracting huge investors' interest on Tuesday as depicted by its 3.6% rally so far.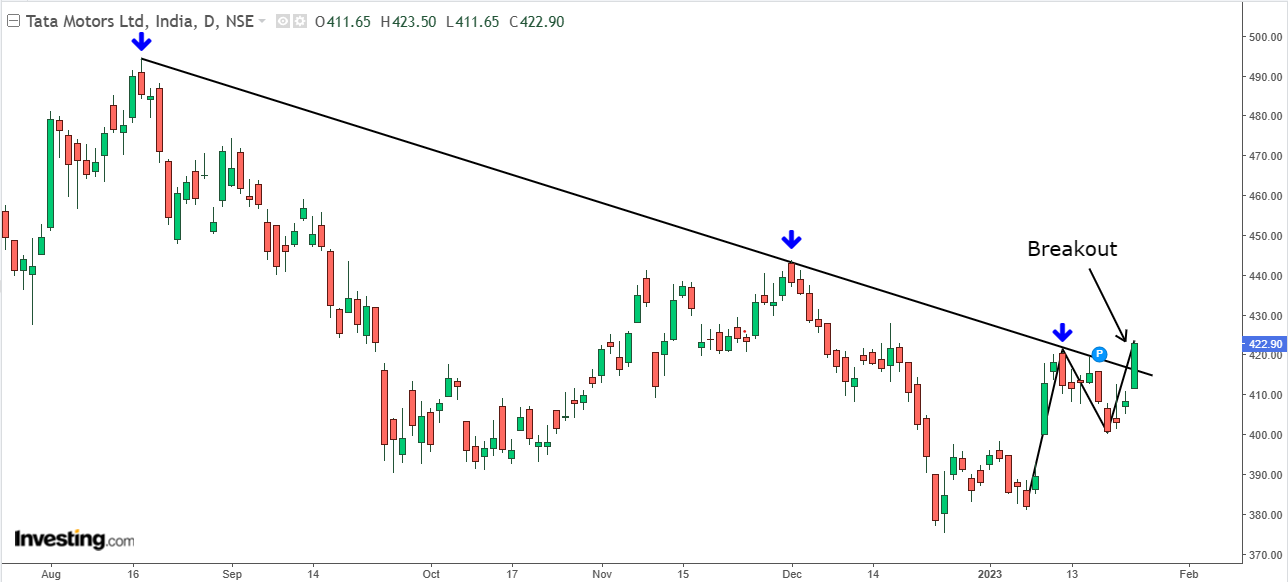 Image Description: Daily chart of Tata Motors
Image Source: Investing.com
Today's up move helped the stock to clear its previous peak of INR 420.5, marked on 12 January 2023 which has continued the formation of a lower low and lower high (HH & HL). This is a classic definition of an uptrend in the Dow Theory. As the stock continues its uptrend in this HH & HL formation, a coincidental break of the falling trendline resistance at the same time has further increased the bullishness of the daily chart structure. 
This trendline can be drawn from the peak of INR 494.4, marked in mid-August 2022, making it almost 5 month-long. The longer the trendline is able to keep the price trend intact, the more important the eventual breakout becomes. Hence, today's rise above the trendline strongly indicates a trend reversal and supported by the HH & HL formation, bulls might have gotten a new opportunity to seize on the long side.
Talking about the immediate support, the preceding trough of INR 400 can be looked upon as a stop-loss level. If the stock breaks this low, then it would also distort the HH & HL formation, hence holding the stock below it might not be a good idea.
As the momentum has just begun in Tata Motors shares, a level of NR 440 could be on the screen in the near future. This is the immediate hurdle and some profit booking can take place around this zone.