The broader markets continue their weakness on Thursday and the metal space is following the trail. The index is down 0.3% to 5,836, by 2:19 PM IST, however, there is one outperformer in this space that is showing no signs of weakness.
The company is Vedanta Limited (NS:), a large-cap natural resources company with a market capitalization of INR 1,08,103 crores. It is the highest dividend-paying company in this space, with a current yield of a massive 30.6%. It's almost impossible to find a large-cap stock with such a gigantic dividend yield. In fact, the next payout of INR 18.5 has already been announced, the ex-dividend date of which is 30 May 2023 and that is probably the reason for a buying frenzy in this counter despite a visible sectoral weakness.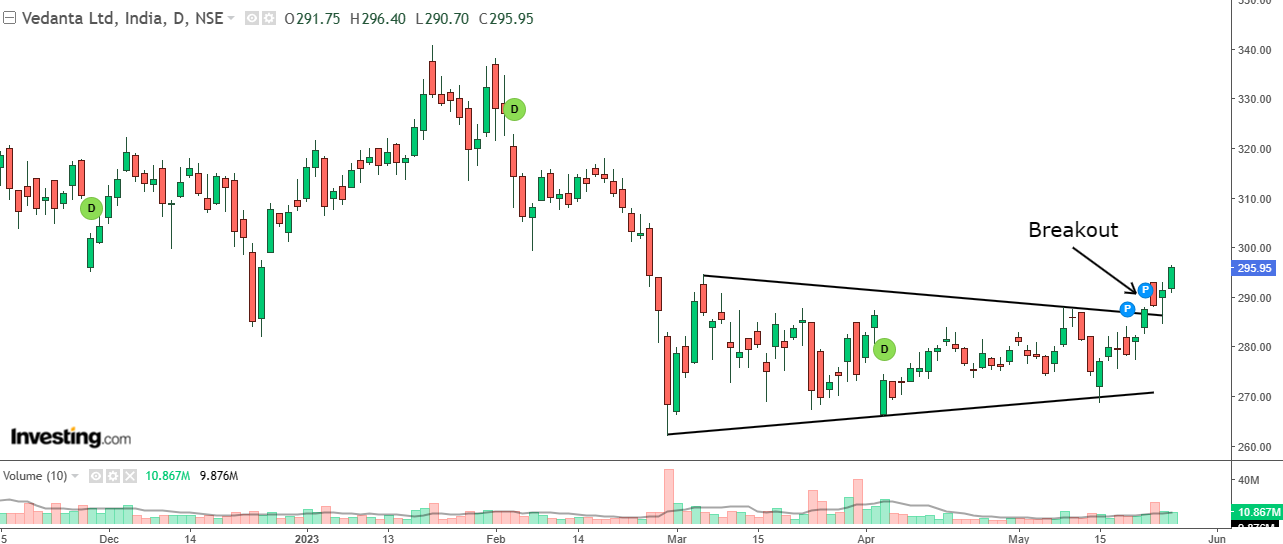 Image Description: Daily chart of Vedanta with volume bars at the bottom
Image Source: Investing.com
The stock had been consolidating in a narrowing range since the beginning of March 2023. This range eventually took the shape of a symmetrical triangle chart pattern. This is a volatility contraction pattern that is known to propel the stock sharply amid a breakout. Today, the stock jumped 1.6% to INR 296 and is clearly starting to trade above the falling trendline resistance of the pattern.
Although the breakout had been witnessed a couple of sessions back, today's follow-up move to almost a 3-month high is further building confidence in the up move. The added incentive of a massive dividend which is roughly 6.1% of the CMP is another reason for the expectation of continuation of the move.
As per the current pattern breakout, the stock now holds the potential to rally to INR 320 in the immediate future. However, as the ex-dividend date is near, the corporate action will distort this pattern so traders have to calculate the remaining move till INR 320 prior to the corporate action and add it to the price after the ex-dividend date to arrive at the estimated target.
Read More: Watchlist: Stock Jumps 7%, Volume Surges Over 400%!