Despite a weak trading session, many stocks ended in the deep green and NBCC (India) (NS:) is amongst such counters. The company is engaged in providing project management consultancy, engineering procurement & construction, and real estate development, having a market capitalization of INR 7,245 crores.
Today, the share price of NBCC rallied 7.5% to INR 43.3 and closed at the highest level since mid-February 2022. This 1-year high closing and that too during a red trading session is depicting the good relative strength of the counter. Although the rally had been going on since the stock bottomed out around INR 31 on 28 March 2023, today's closing is further setting it up for a big move.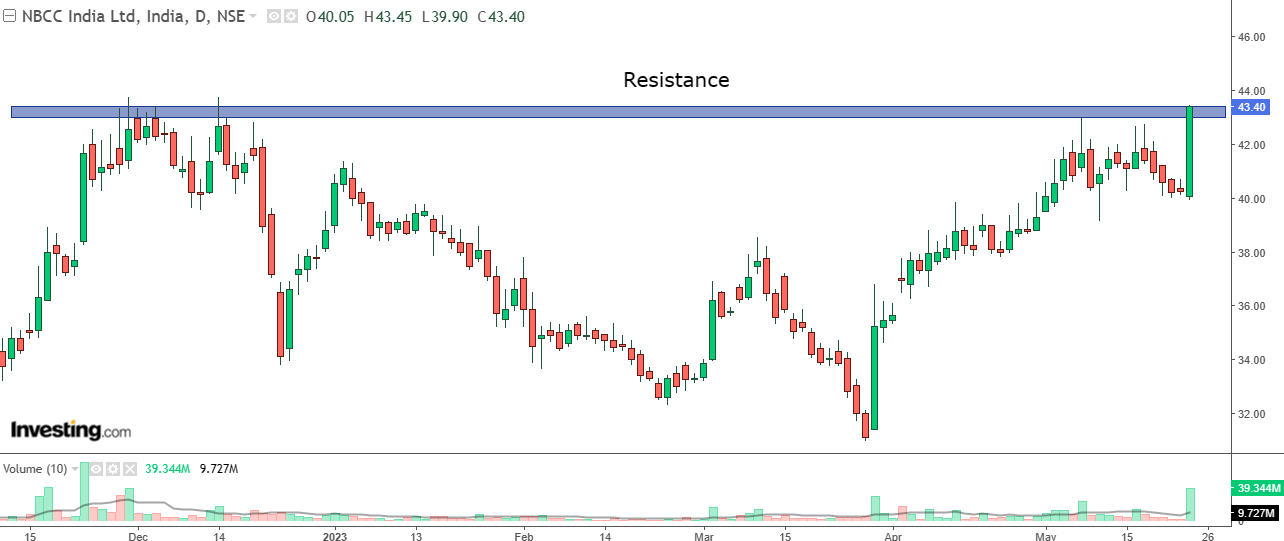 Image Description: Daily chart of NBCC (India) with volume bars at the bottom
Image Source: Investing.com
The supply zone of INR 43 – INR 43.75 is quite a strong one which had been keeping the stock from rising for over a year now. Traders can also see many intraday spikes in this zone but none of the time, the stock was able to withstand the selling pressure and turned from there on every instance. However, today's closing in this zone is representing a change in the demand-supply equation which might be an early warning of a resistance break this time.
Today's closing is also more important as the stock has also witnessed a sharp spike in investors' demand. By the closing, the NSE recorded a total volume of 39.2 million shares, which is the highest one-day figure in over 6 months and higher by 485% over the 10-day average of 6.69 million shares. Traders can keep the stock on the watchlist and as soon as NBCC (India) shares start to move above INR 43.75, a long opportunity can be exploited.
This combined volume and price action is preparing the stock for strong upside potential. The nearest level (above the resistance of INR 43.75) to which the stock can travel is around INR 48, which can provide a quick swing trade to traders. A stop loss can be maintained below the nearest swing low of 40, giving the whole trade a risk-to-reward ratio of around 1:1.
Read More: 2 Breakout Shares to Put on Watchlist for Next Week!