As the index is virtually going nowhere in today's session, hunting for individual counters could be more rewarding. Rallis India (NS:) is coming on my radar which is looking quite good for an impending rally. The company is in the business of manufacturing and marketing of Agri Inputs and has a market capitalization of INR 4,460 crores.
The month of October 2022 had been a good one for the stock as it rallied from a low of INR 204.5 to a high of INR 238.8, marked on 25 October 2022. The rally was soon followed by a retracement which was more or less a rounding bottom. This subtle fall is actually a good sign for the stock as it tends to weed out weak hands. A gradual correction is always a healthy sign during an uptrend as compared to a very sharp correction.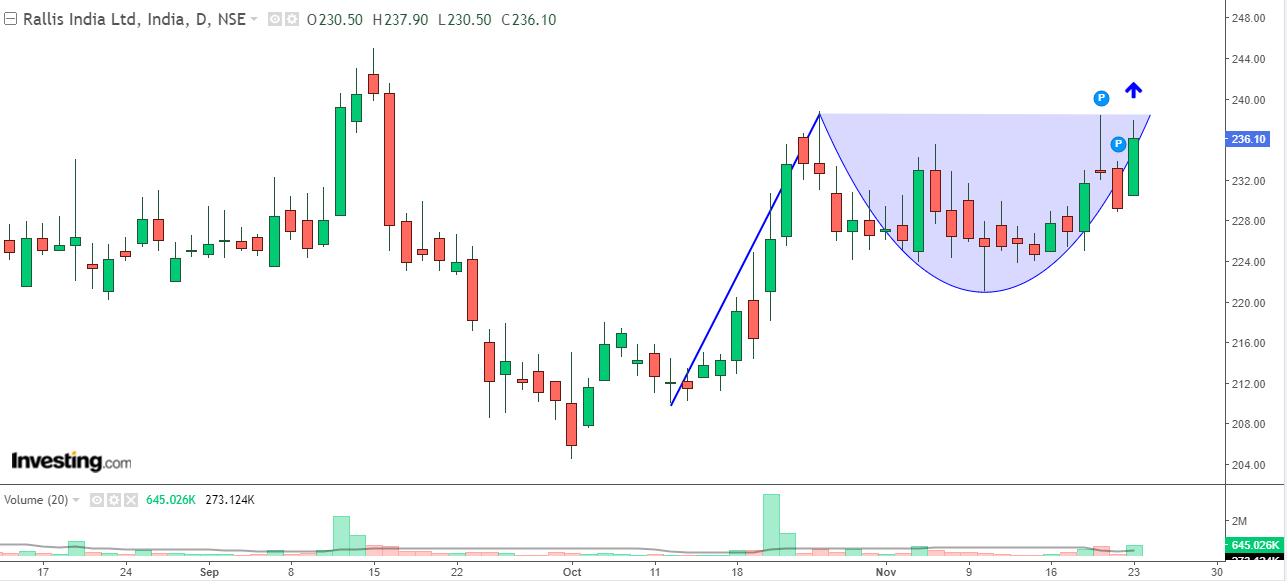 Image Description: Daily chart of Rallis India with volume bars at the bottom
Image Source: Investing.com
Another way to gauge whether the correction is healthy or investors are hurrying to make an exit is to look at the volume figures. Whenever a correction after an uptrend is witnessed on the back of a low volume, that is a good sign. However, if this same correction sees a heavy volume then investors should become skeptical. In the case of Rallis India, the volume was clearly seen as subdued during the correction and therefore, the stock is looking all set to deliver a good rally once it breaks above the resistance of INR 239.
Another thing to notice on the volume front is as the stock rallied after bottoming out, the volume figures also started to pick up. In technical parlance, if a trend is supported by an increasing volume, its reliability increases. Today, as the stock rose around 3% to INR 237, by 11:43 AM IST, the volume also expanded to 631.2K shares which is the highest in over a month. 
There has been a good resistance that the stock is facing around the level of INR 238 – INR 239 which has been tested quite a few times, since the last week of October 2022. Hence a break of this resistance is important before investors try to make an attempt to go long in this counter. Above this resistance, the rally could extend to INR 245 after which a much bigger breakout could materialize. A fall and closing below INR 220 would negate the current bullish view on the stock.