Today's session is the third day when the benchmark is continuing its gains, currently trading 0.53% up at 18,365 by 10:25 AM IST. The broader sectoral strength is also looking good, with 9 out of the 11 sectoral indices trading in the green zone. The market sentiments are clearly supporting the long holders so far.
On the long side, one stock that investors might want to put on their watchlist is Sharda Cropchem Limited. The company is in the business of manufacturing fertilizers & Agrochemicals, having a market capitalization of INR 3,493 crores. It is yet another stock that is gearing up to deliver decent gains from the chemicals and fertilizers space.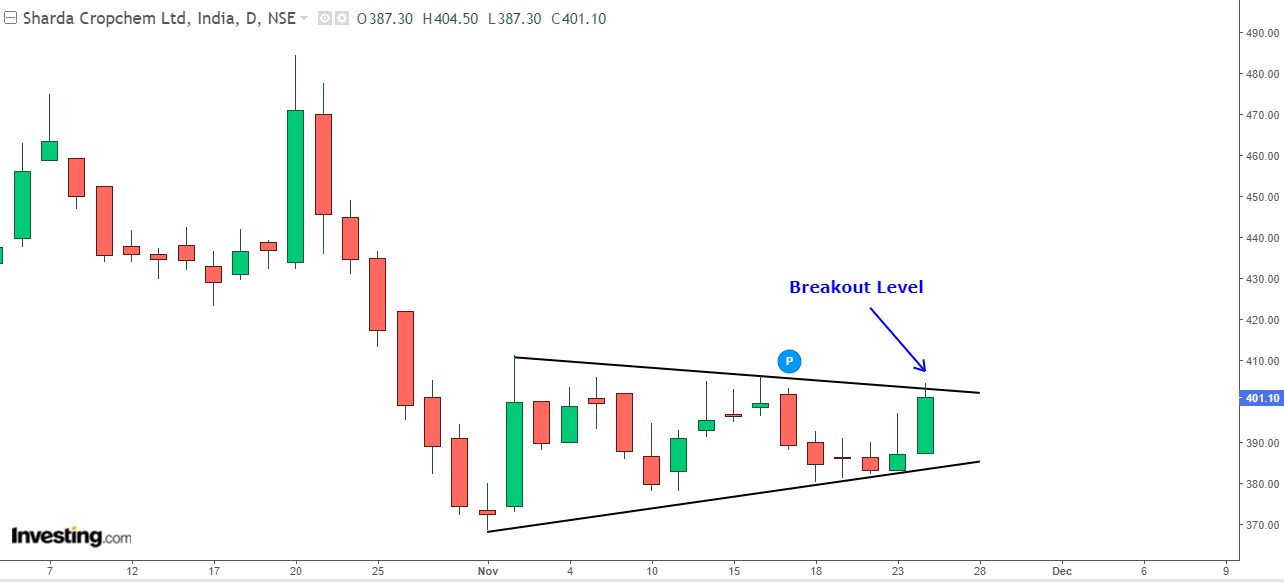 Image Description: Daily chat of Sharda Cropchem 
Image Source: Investing.com
There has been a decent consolidation going on in this counter since the beginning of November 2022. It was preceded by a decent one-way correction in the last week of October 2022, and therefore the current sideways trend is normal behavior for the stock. Generally, after a good rally/fall, the stock tends to take a breather and consolidates for a while as investors digest the new price levels.
This consolidation led to the formation of a symmetrical triangle pattern on the daily chart which is a volatility contraction pattern. The breakout above/below the trendlines of the triangle depicts a good impending move in that direction. Today, the share price of Sharda Cropchem surged past the resistance of INR 404 which is comfortably above the breakout level of the upper trendline. 
Although the volume figures should not be looked at currently, as it's been almost only one hour of trading, still it is over 66K shares which is slightly below the 10-day average of around 85K shares. I would consider it a decent pick-up in volume as one hour of trading has garnered a volume slightly less than an entire average trading day's volume over the last few sessions.
If the stock delivers a successful breakout from here, the nearest distance it could travel to is around INR 435 – INR 440 which depicts an upside potential of around 10% from the CMP. Another thing to look at is if the stock breaks the lower trendline, in that case, the long positions should definitely be liquidated as it is not only a bearish indicator but might also lead to the continuation of the prior downtrend,